Use our simple SEO Checklist to get a top search engine ranking.
It's easy to follow and it works.
Get the basics right and the rest will drop into place.
The checklist has been tried and tested over and over again.
If you are looking to get higher rankings this list is all you need.
Get every part in place and you are good to rank higher.
How Does Our SEO Checklist Work?
Here at Rankers Paradise we like to use PROVEN strategies.
We have used this checklist to increase clients traffic fast in just a few weeks.
We have also ranked our own blog posts and pages for many low, medium and high competition keywords.
Keeping it simple, giving you just what is needed to get results makes it quicker to implement.
Work your way through each part on the list to achieve higher rankings.
The more you complete the higher your site will climb.
In turn your traffics will soar.
Time Saving SEO Basics Checklist
If you have little time you can get fast results running over the basics.
It doesn't need to be a really long time consuming process to rank higher.
You must have a few FREE SEO tools and plugins in place before you get started.
I am just giving you the stuff that is necessary here, no time wasting.
Set up Google search console (this is only required to index new posts/pages quickly)
Install Yoast SEO (WordPress website users only)
Now you have those in place you can go ahead and run through this basic checklist:
Keyword Research (check keyword value)
Index New Content (submit URL in Google console)
Social Promotion
All of this is explained in more detail below.
Keyword Research Checklist
Let's not mess about using a whole lost of different keyword research tools.
Keeping it simple saves time and allows us to move on quickly.
Sometimes it will be absolutely necessary to use a few different tools.
This all depends on your niche.
For most projects one tool will do the job, the FREE spyfu keyword research analysis tool will do the job.
This is the most important part of SEO.
It will make or break your new project/content and efforts.
It's not just good to find keywords with a high search volume, you need to know how much your keyword is worth.
A keyword may have a high search volume, however it may not produce buyer traffic.
This is something you must keep at the front of your mind.
It's all about making the most of your time and efforts.
Putting effort into the start at the keyword research stage will pay off later down the line.
Do not miss this step or take it lightly.
Head on over to the spyfu homepage.
Enter a seed keyword or a competitors URL.
The good thing about spyfu is that it is a little different to other keyword research tools.
It will help you uncover all your competitors keywords.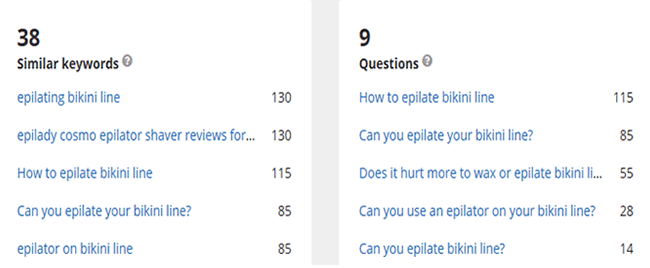 You will discover keyword search volume, SEO competition scores and similar search terms.
You will also discover a list of questions related to your keyword.
This is important, you can work these questions into your content and rank for long tail keywords too.
Other SEO experts tell you to use Quora to find these questions, with spyfu you can eliminate that task.
All this leads to more traffic.
It's such an easy tool to use and it's free too.
Content Creation and Optimization SEO Checklist
Now that you have a good keyword selected, it's time to write or optimize your content.
The best way to do this is to take a look at the content that is already ranking top.
You go ahead and analyse this content, create something different yet better.
Before you do anything take note of the content that is ranking top.
Drop your keyword into Google search and click on the top ranking site.
You will notice that to rank top you need to do the following:
Have your keyword in the URL (make it as short as possible)
Have your keyword in the TITLE TAG
Have your keyword in the DESCRIPTION TAG
Mention the keyword towards the start of your content
Have the keyword in the H1 TAG and one H2 to H6 TAG
Have the keyword in one image ALT TAG
Make sure the keyword density is below 1% (do not keyword stuff)
Link out to authority sites in your niche
Use internal links to related posts on your site
Make sure your cover everything on the list and you will rank top.
Technical SEO Checklist
Any technical problems can be identified with ease using free tools.
This is why I said to set up your website on Google console.
Any errors will be listed in your account, they even show you how to fix them.
Go ahead and log into your Google console.
Your can go ahead and run tests on each URL on your site.
You can even index a URL if it is not in the SERPs results pages yet.
Simply pop the URL to inspect into the top search bar.
You can check if your URL is indexed and even request indexing.
You will see if your website has mobile usability and even test load speeds.
Check Google console for crawl errors
Find and fix broken links (use a free tool: www.deadlinkchecker.com)
Make sure your site has HTTPS (this is considered by many to be a ranking signal)
Check website load speed (use this free tool: gtmetrix.com)
Use Schema Markup (see this guide for help)
Social Promotion Checklist
To get things started it is best to drop your new content onto social media.
You can sign up and promote your pages on the following popular platforms:
Facebook
Twitter
Pinterest
Instagram
Linkedin
YouTube
Of course the niche you are in depends on which ones you choose to use.
You may have time to go for all social media platforms.
If not, make sure you use Facebook and Twitter as a bare minimum.
In time your following will grow and will pass traffic to your website.
Ensure you join niche related groups and try to stay active as often as possible.
Backlinks Checklist
It doesn't matter how good your content is, you are going to need backlinks to rank top.
This is super important.
You can run through our checklist of possible backlinks that you can acquire.
Many are really easy to get right away, some are free and will work on low to medium competition keywords.
Guest Posts
Private Blog Network
Blog Comment Links
Sidebar, Header and Footer Links
Business Citations and Listings
Niche Related Directories
Forum Links
Web 2.0
Edu & Gov Links
Profile Links
301 re-directs
All of these backlinks work, you must be careful when building backlinks yourself.
It is very important to take care when selecting your anchor text profile.
Note: The best backlink will be contextual from a niche related website.
A backlink from an aged website in relation to yours with many backlinks will be more powerful.
Tip: Take a look at your competitors backlinks profile.
Note down the type of links that they have and the anchors that they have used.
A quick and easy tool to use for this is: backlinkshitter.com.
Replicate the links you can get right away.
These will be the web 2.0 backlinks and blog comment links.
The rest will need to be replicated by getting PBN and Guest Post links to the same standard as theirs.
Take your time building the links, it will take at least 90 days to rank top.
Spread the links out over this period.
If the top ranking site has thousands of backlinks you will need to increase the ranking time scale accordingly.
That's the absolute basics out of the way.
Get all of that in place and you are set for a top keyword ranking.
I will cover each step in more detail below.
First of all here is a complete check list of everything we have covered above.
Complete Checklist for Top Ranking
Here is the full run down from start to finish:
Make sure your site has HTTPS
Keyword Research (use spyfu free version)
Keyword in URL
Keyword in the TITLE TAG
Keyword in the DESCRIPTION TAG
Keyword towards the start of your content
Keyword in the H1 TAG and one H2 to H6 TAG
Keyword in one image ALT TAG
Keyword density below 1%
Link out to authority sites
Use internal links
Check Google console for crawl errors
Check website load speed
Use Schema Markup
Social promotion (post like on Facebook and Twitter as a minimum)
Backlinks (check top ranked site profile and get the same)
That's absolutely everything you will need to get a top ranking.
Take care on each step and you will pass your competitors and hit the top too.
I am going to run through things in more detail below.
This will help you get things done if you get stuck or are unsure about any of the steps on the checklist.
Advanced SEO Tutorial and Tips
Now that you know the basics, we can go into more detail about each of the steps listed above.
Making Your Website HTTPS
This is well know to be a ranking signal.
Every website in this day and age should have https.
Many hosting companies offer a free https certificate.
If you are on a low budget we recommend going for Bluehost.
If you have a bit more to spend we recommend SiteGround.
Both offer free https, and you should be taking advantage of this.
It will help you website gain a higher ranking, it's proven.
Set Up HTTPS with Bluehost
Log into your Bluehost control panel.
Click the Addons tab.
Locate SSL Certificates, and click on the learn more button.
Click the get started button under WordPress Free SSL.
Click the Install button.
Set Up HTTPS with SiteGround
Log into your SiteGround control panel.
Click on cPanel.
Select the Security tab.
Click on "Let's Encrypt" radio tab.
Click the Install button.
Very easy to do and it's completely free of charge.
This is something you can do right away for free to improve your website ranking.
Keyword Research
Say I want to find some low competition keywords with a decent search volume in the seo niche.
I would start by going over to spyfu.com.
As shown earlier, I would enter a seed keyword.
For this tutorial I will enter "digital agency".
The tool will throw up some long tail search terms.
Now click on a long tail search term with a good search volume.
The keyword "digital marketing agency denver" has a good search volume.
However the competition has a ranking difficulty of 67.
This will be too high for most new blogs, but is not difficult for me to rank top here on Rankers Paradise.
Of course there are many other long tail search terms thrown up for the seed term "digital agency".
To make things easier for me in ranking terms I will run through the other long tail variations to know if there is anything available with a lower SEO competition score.
After a few more searches I find the "digital marketing agencies seattle" has a much lower competition score.
I would not down the questions thrown up by spyfu, these would be added to the bottom of my blog post.
The next step is to look at the content on the top ranking site.
If the content is thin then it's easy to beat.
If the content is thin and the number of external backlinks is low, you are onto a winner.
I will show you how to check on this later.
What to look for:
Top ranking site with thin content
Top ranking site with few external backlinks
You can go ahead and check the traffic you will get from each keyword.
Take note that 33% of the traffic goes to the top Google ranked website.
search volume x 33% = number of website visitors
number of website visitors x website conversion rate (if not know used 1%) = number of sales
profit x number of sales = monthly keyword value
This will give you an estimate as to how much a keyword will make you.
Of course you may be looking for sign up's, which can be calculated in a similar manner.
Back to spyfu to check the top ranking sites for your keyword.
Click on the "SERP Analysis" tab.
You will see the top ranking sites for your selected keyword.
Go to the top ranking site.
What is the content like?
Is the content in depth?
The main thing to ask yourself is:
Can you offer something better?
If the answer is yes then you can move onto the next step.
Which is to take a look at the number of backlinks that point to the top ranking site.
Head on over to backlinkshitter.com.
Drop the top ranked site URL into the tool.
As you can see, the top ranked site for my selected keyword has just 74 backlinks.
That's not a lot.
The next step is to look at the quality of the backlinks.
Ask yourself:
Can you get backlinks of the same quality and then more?
If the answer is yes then congratulations, you have found a keyword you can rank top on Google for.
Take note of the backlinks and the anchor text that has been used.
The top site has many web 2.0 backlinks and is using BRAND and GENRIC text for a lot of the anchors.
If I was to go ahead on this search term I would be looking to do something very similar.
Content Creation and Optimization
Make sure your keyword is in the URL extension.
If the keyword is "Digital Marketing Agencies Seattle" then the URL would look like this:
Make sure the URL is as short as it possibly can be.
Make sure the exact keyword is in the META DATA:
In the TITLE TAG
In the DESCRIPTION TAG
As shown in the image above.
This is a strong signal to Google bot as to what keyword you are trying to rank for.
This is also important:
Use the keyword in the first few hundred words of your content.
Use the keyword in the H1 TAG.
Use the keyword in the H2 TAG.
Use the keyword in one IMAGE ALT TAG (do not over use it – once is enough).
Ensure the keyword density is below 1%
Tip: I always put the keyword in the H2 heading and also BOLD FONT the H2 heading.
You can also link out to authority sites in your niche.
As you will see in this post, I link out to many related sites in the SEO niche.
Internal links are also used, using exact match as anchors is perfect for internal links.
This helps boost your rankings for existing posts and pages on your website.
Writing Your META DATA
To get a top ranking it's important to achieve a good click through rate.
It is also important to have a low bounce rate, this will ensure your ranking stays high when you get there.
Writing a good META TITLE and DESCRIPTION TAG will help get click from the SERPs and keep them on your site.
If your META DATA is misleading your bounce rate will be high.
Make sure this information is intriguing yet true towards your content.
There is nothing more annoying than clicking on a site from the SERPs to discover the site does not deliver on the details.
What do you do when that happens?
You click back, this will give your site a high bounce rate if you do the same thing.
So don't take writing your META DATA lightly, it's very important for long term rankings.
Note: The more people that click on your website from the SERPs and stay there (work their way through your site) the higher you will rank.
Google uses Click Through Rate as a ranking signal.
You can improve your CTR rate by doing the following:
Appeal to the clickers emotions
Give the clicker something they need that isn't listed by anyone else
I sometimes use words like "SHOCKING" and "DISCOUNTS" in the the title and description tags for increased CTR.
If you have something unique to offer that is mentioned in your post then make sure it is highlighted in your META DATA.
This will ensure Google surfers click on your listing and stay on your website.
The best way to ensure you lower your bounce rate is to have clear call to actions within your content.
Also make sure you link out to external sites and ensure you have internal links.
This sends a strong signals to Google bot that the surfer found what they needed on your site and then moved on.
In turn, your website will rank higher for that search term.
You may need to optimize current content on your website.
You can run through the checklist for that.
Re-write your META DATA and add the keywords into your content as you see fit.
If ever you need a point of reference, take a look at the top ranking site for your keyword.
This gives you a clear idea of what needs to be done as a bare minimum.
Don't waste time on low search volume competitive search terms.
Pick out the battles you can win and go for.
You may have hundreds of pages on your site, but only 10 are worth optimizing and building backlinks to.
Backlinks
The final and most important step is to build backlinks.
If you are short on time you can outsource much of this work.
But be very careful who you outsource to, one mistake could get your website penalized and de-indexed on Google.
Do not panic if this happens, you can find and remove bad backlinks using free tools.
Just follow out tutorial to get it done, your Google rankings will return.
There are many free backlinks you can get right away.
We have many proven ranking strategies that you can follow:
You can use SEO software to save time building these backlinks:
Or you can purchase everything in our seo store.
This includes all the backlinks that your competitors have.
Improve Website Load Speed
Another very important ranking signal is the time it takes for your web page to load.
This will also have an impact on your bounce rate.
People will hit the back button if your website does not load in quickly.
Go the the gtmetrix.com website to get started.
Drop your URL into the analyze bar.
You will be given a list of things you can do to improve your website load speed.
The good news is that you can do this yourself using free plugins on WordPress and other platforms like Wix.
The best WordPress plugins to improve load speed include:
Autoptimize – Makes your site faster by optimizing CSS, JS, Images, Google fonts and more.
BJ Lazy Load – Lazy image loading makes your site load faster and saves bandwidth.
Comet Cache Pro – Comet Cache is an advanced WordPress caching plugin inspired by simplicity.
Webcraftic Robin image optimizer – Optimize images without losing quality, speed up your website load, improve SEO and save money on server and CDN bandwidth.
Just by adding these plugins your website will load much faster.
Go ahead and install each plugin, then re-test your website load speed.
Final Thoughts
The SEO checklist really does get results and can have a huge impact on your Google rankings.
If you have any questions about any items on the checklist please drop me a comment below.
Keep in mind that the research at the start will set you up for long term success.
Getting the following few things right will get you top rankings:
Keyword research
Optimized well written content – Good META DATA and fast loading website
Niche related backlinks
That's all you need to hit the top.
Go ahead and get it done.