I am going to show you a real quick way to find bad backlinks pointing to your site. Then I will show you how to remove them in order to push your site up Google SERPs.
So who is this tutorial for;
Anyone that has seen a recent rank drop
If your site has been penalised and removed from Google index
Anyone that wants to check the quality of their backlinks
It's really good practice to do a backlink audit on a regular basis. This way you can identify low quality links early and have them removed.
By removed I mean "Disavow" them. This is your chance to ask Google bot to ignore certain backlinks pointing to your site.
The links are not removed, they are simply ignored by Google bot.
After you submit these links to Google it can take anywhere from 2 to 4 weeks before you see any rank change.
You are going to use one tool; SEO SpyGlass, it is free to use, so there is no reason not to have it.
The quality of the backlinks that point to your site play a very big part in your rank. We are going to locate the low quality backlinks, then remove them.
This in turn will push your site up the SERPs to where it deserves to be.
I am going to use my Amazon affiliate site as an example for this tutorial. I took the lazy route when ranking this particular site, so it certainly has some backlinks that need to be removed.
I am going to use SEO SpyGlass to locate the poor low quality backlinks.
This is very easy to do, you can have this done in 5 minutes.
Find Bad Backlinks with SEO SpyGlass
First of all, get yourself a copy of SEO SpyGlass.
Now go ahead and power up the software.
Enter the website URL for SEO SpyGlass to analyze. Then hit the "Next" button and wait for the software to do its thing.
You will then see the total number of backlinks found. Hit the "Finish" button.
Now you will see a page that displays your total backlinks, the number of domains that those backlinks come from and also your C-BLOCK IPs.
Now select the "Backlinks" tab (circled red).
Now select the "Link penalty risk" tab (circled red).
If you look down the "Penalty Risk" column you will notice that they all have a penalty risk of 0%. We need to update the factors to have the software asses the links.
To do this we simply select the top backlink on the list, hold down your "SHIFT" button and hit the down arrow key on your keyword. We want to select all the links on the list to have them analysed.
Make sure that you have all the backlinks selected.
Now hit the "Update Factors" button (circled in red).
You can now choose the backlink factors that you want the software to asses. I make sure everything is selected, which is the default option.
Then hit the "Next" button.
Now hit the "Finish" button. This might take some time to complete, depending on how many backlinks you have to analyse. It took SEO SpyGlass six and a half minutes to analyse 121 backlinks for me. Of course this will also depend on the speed of your internet connection.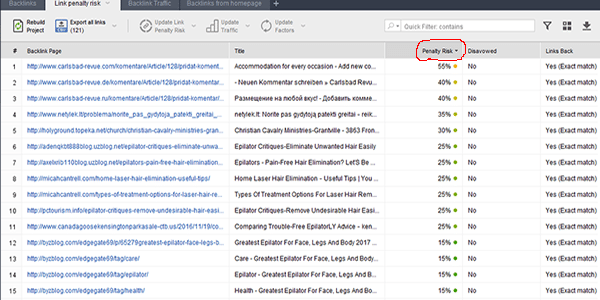 Now toggle the "Penalty Risk" tab to get the high risk domains at the top of your list.
All backlinks with a penalty risk of 30% or above are going to be removed. These are considered to be low quality links.
All backlinks with a penalty risk of 60% and over will be marked as red and require immediate action, these links are going to seriously hurt your rank.
As you can see from the image above, my Amazon affiliate site has 5 backlinks with a penalty risk of 30% or more.
Removing these five backlinks will give my site a little jump up the SERPs.
If you have a few low quality backlinks the first step that you should take is to contact the website owner and ask them to remove the backlink.
I can see clearly that someone has tried to destroy the rank of my Amazon affiliate site by dropping some very low quality Russian backlinks to it. I most certainly did not purchase or build those backlinks, so let's get them removed and push the site up the SERPs.
To do this I am going to Disavow the links, which I will show you next. You need to create a Disavow file to submit to Google, the good news is that SEO SpyGlass will do this for you 🙂
First of all you need to select the backlinks that you want to remove. Simply hold down the "SHIFT" key and scroll down with the "DOWN ARROW" key.
The backlinks that you want to remove should be highlighted, as shown in the image above.
Now right click on your mouse button over the links that you want to Disavow. Then select the "Disavow backlink(s)" option.
I have selected "Entire Domain". I do not want any backlinks from these domains associated with my Amazon affiliate site. You can select "Backlink" to Disavow that particular URL. I prefer to Disavow the entire domain.
You can also add a comment, this will also be added to the disavow file. This is optional, so I will leave it blank.
Now hit the "OK" button.
Now select "Preferences" from the top menu. Then select "Disavow/Blacklist backlinks…" from the drop down menu list.
You should now see the backlinks that you have selected to disavow.
Click on the "Export" tab. This will allow you to save the Disavow file to your PC. Then you can upload it to Google search console.
Name your file and hit the "Save" button. Make sure you save as a .txt file.
Now we need to upload the file to Google Console.
Go ahead and log into Google via the disavow links tool page.
Make sure you sign into the Google account that has your website logged in the Webmaster Tools section.
Now select the website that you want to Disavow links for. Then hit the "DISAVOW LINKS" button.
Read through the words of warning, then hit the "Disavow Links" button if you wish to continue.
Now hit the "Choose File" button and locate the file that we saved from SEO SpyGlass earlier.
Now hit the "Open" button.
Now you need to hit the "Submit" button.
Wait a few seconds, then you will be presented with a submission message.
I have successfully uploaded a disavow links file containing 5 domains.
Then hit the "Done" button and you are all set to rank up.
It's very easy to find bad backlinks pointing to your site.
This is a nice easy way to find low quality backlinks that are hurting your rank.
Another little trick for you to perform to help you rank up 🙂
Watch the video for more information on how to Disavow links: