I am going to show you how to get the best backlinks for YouTube videos for fast ranking.
Video embeds on high PA Tumblr blogs is the way to do this.
The more video embeds you do the better.
You can do this manual, however it is going to take a lot of time.
So to speed up the whole ranking process we are going to use a Tumblr bot.
The bot will do the video embeds for us at lightening speed.
This bot is called TumblingJazz and is available to buy for a one off payment of just $77.
It does a whole lot more than just video embeds.
If you have a lot of videos to rank it is going to come in very useful indeed.
We also offer a video embeds service in our store, just to let you know.
You get 100 powerful video embeds for just $15, let us do all the work for you.
Before you go ahead and start building backlinks to your video you need to ensure that your video is fully optimised.
We have a blog post that shows you how to rank videos here, the complete process from start to finish.
We also offer a video optimisation and ranking service in the Rankers Paradise store here.
In this service we will fully optimise your video and rank it on page 1 of YouTube fast in under 24 hours.
After that is taken care of, you can go ahead and do the video embeds as outlined below to rank your video high in Google SERPs.
Let's get started.
Best Backlinks For YouTube Videos
Go ahead and open up the Tumbling Jazz software.
If you are completely new to the software then you are going to need to add your Tumblr accounts.
I will show you how to do this right now.
I am going to do 100 video embeds/backlinks using the software, so I will add 100 accounts.
It is quick and easy to do, you can also add secondary accounts too with ease.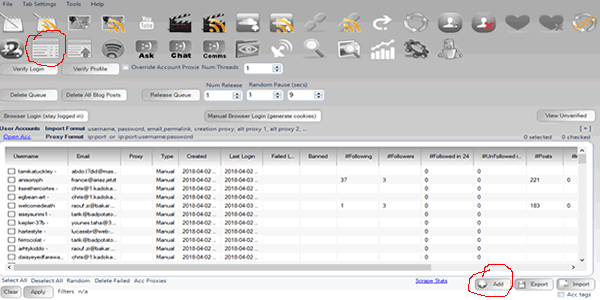 First select the "View Accounts" button circled in red at the top left of your dash.
Then go ahead and hit the "add" button circled red, bottom right of the interface.
The only details you need to add is the Tumblr account email and password.
If you are adding a secondary account you will need to add the secondary account name too.
You will need to do this process for every account you add.
Yes you have to add the accounts individually, it takes a bit of time initially, but if you have a lot of videos to rank it is going to be well worth it in the long run.
You can un-check the "Validate on save" radio box, it is not required.
Then go ahead and hit the "Save" button.
That's it, go ahead and add all your Tumblrs into the software.
Add as many accounts as you wish to do so.
You can even assign a proxy for each account.
I don't bother with proxies.
I have 100 accounts loaded into Tumbling Jazz without using proxies and have not lost any of my accounts.
Now let's get those video backlinks.
Step 1
First of all you need to set up a file containing the details of the video that you would like to embed in your Tumblr blogs.
This is an example of what your video file should look like.
So I will go ahead and open Notepad and set up my video file.
This is what my video file looks like.
As you can see I have the video URL that I want to embed followed by a short description of the video.
After the description I have included some tags (will be your keywords) followed by the video URL again.
I should also mention that you do not need to enter all this information, you can simply enter the video URL only if you wish to do so.
However it is a good idea to get your keywords in the description and in the Tags too.
Save the file, now we can move onto the next step.
Next we need to load the file into the software so it knows which video to embed to our Tumblr blogs for us to get those powerful video backlinks in place.
Click the "YouTube" button circled red.
Now we need to select the file we just created.
Click the "Select File" button circled red in the image above.
Then select the file you just created.
Now hit the "Import File" button.
If you have entered the information into the NotePad doc correctly you will see your YouTube URL, description, Tags, URL Stub and Source information loaded into the correct columns inside the software as shown above.
Next we need to select the Tumblr accounts we want to post our video to.
I have hit the "Select All" text circled red at the bottom left of the screen.
You can also select or de-select the accounts individually by clicking the radio tabs (circled red) as shown above.
Hit the "Post Videos" button and let the software do it's stuff.
To check the progress of your project click on the "Processor" icon circled red above.
If your new project status is "waiting" go ahead and click the "Run" button.
This will change the progress status to "Processing".
To see a progress report simply double click on your project.
The software will give you a full run down of which Tumblr account it is currently logging into and posting to.
Simply sit back and wait for the software to do all those lovely powerful backlinks to your video.
To get the URLs of the of your video embeds you need to do the following.
To access your backlinks report go to help, Logs and the hit the "posted Content Logs" option.
This will give you access to the file with all Tumblr post URLs where your video embeds exist.
Here is what my video embed looks like:
As you can see, the video embed matches the information I submitted to Tumbling Jazz using the embed file option.
The software took around 30 minutes to do 100 video embeds for me.
This will help rank any video higher in the SERPs for any selected keywords.
Of course Tumbling Jazz does a whole lot more, which we will discuss at another time.
These are without doubt the best backlinks for youtube videos, go ahead and feel the power for yourself.