How are we going to prove that this service works?
You can also buy our link building services to get a top ranking.
Our selected keyword is "best place to buy backlinks".
It has a low seo competition score and low search volume.
I'm not bothered about that, I just want to find out how effective these backlinks can be.
So I am going to publish this post and log the results.
As you can see, it's a super easy keyword with a very low seo competition score of just 16.
Right, let's take a closer look at the automatic backlinks website.
Is AutomaticBacklinks.com The Best Place To Buy Backlinks?
First and foremost, this service is free with the option to buy backlinks should you want to do so.
It is a link exchange system that uses a plugin on your WordPress, Joomla, Drupal, php, .net and more to build backlinks on virtual autopilot.
You can find the best backlinks of all, which are niche related contextual links.
If you go down the free route the simple formula is:
Give a backlink out, get a backlink in return.
The more backlinks to give, the more backlinks to get in return.
If you don't like the sound of a link exchange system, then you can buy backlinks, which gets you a one way backlink without the return link needed.
The network of sites is monitored to ensure only quality sites are available.
Automaticbacklinks.com ensure that their is no footprint, even when you use the plugin on your site.
It's pretty much a set and forget backlink source after you have added the plugin to your site.
The video below explains how it all works:
Getting Started;
Now you need to head on over to site and sign up for a free account.
I only want one way backlinks, so I am going to buy backlinks for this little ranking test.
Is this really going to prove to be the best place to buy backlinks?
Let's find out right now.
Okay, so you have your account, what's next?
When you login you will first see your dashboard.
If you want one way niche related contextual backlinks you need to buy some link credit.
Click on the "buy link credit" text as shown is the image above.
To buy 50 Link Credits it is going to cost you $50.
I have added 50 credits into my accounts.
Let's take a look at what kind of backlinks we can get to this post for $50.
To get started we need to start a backlink campaign.
Go ahead and click on "Add Backlink Campaign" as shown.
Name your backlink campaign and select a topic from the drop down menu.
Make sure your topic is as close to your niche as possible.
We only want high quality niche related backlinks here.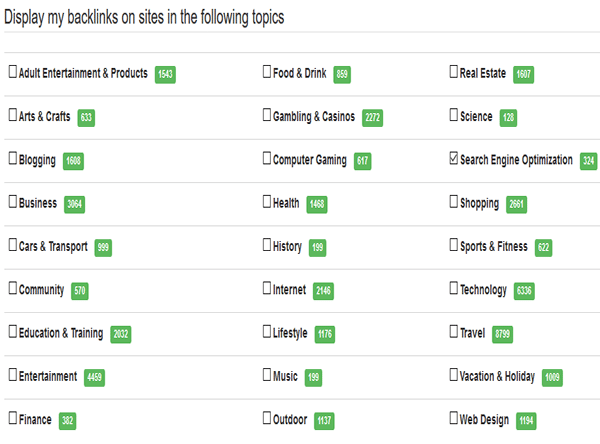 Now select the radio box for the niche related sites you would like backlinks from.
As you can see, you can set the link credit that you would like to use for the backlink building campaign.
I have set this campaign to only deliver one backlink per site and to build a maximum of 10 backlinks per day.
Finally you have the option to limit what top level domains your backlinks will be shown on.
Go ahead and hit the "save" button to finish off.
Now we need to add our URL into the system.
After you have hit the save button you will be shown the page below:
Now you can click on the "Add Link Variation" button to add your URL into the system to buy backlinks.
Now you can enter your anchor text for your backlink.
You also have the option to set the text that is before and after your backlink.
When you are satisfied hit the "Save changes" button.
You can go ahead and add more anchor text options if you wish to do so.
I am going to use exact match anchors and full open URL anchors.
The Results;
That's it, sit back and wait for the backlinks to roll in and watch your website rank up.
I am going to log the results here and give some feedback on the quality of these backlinks.
Let's find out if the backlinks will rank this post top for the selected keyword.
Post is published on Monday 30th October 2017.
To see the backlinks you have purchased simply return to your dashboard.
I had 2 backlinks to this post within ten minutes using 14 credits of the 50 I have purchased.
I am interested to see if these backlinks will rank this post for the selected keyword.
I will keep everyone posted on the ranking results and the number of backlinks built.
Within 35 minutes of setting off my Automatic Backlinks campaign I have 10 backlinks pointing to this post.
10 backlinks has cost be 40 link credits.
So you are buying backlinks for just $1 here.
The big question is, will these cheap backlinks rank a website top of Google search?
You simply click the "View Backlinks" button to see all the websites that you have a backlink from.
It's Been 2 Days:
Right, so it has been 2 days since this post was first published.
I will show you the backlinks that has been created and the ranking report.
So we now have 13 backlinks purchased pointing at this post, which has just about used up all my $50 link credit.
This means you are paying around $4 per backlink, which is very cheap indeed.
The big questions is, in just 2 days have these backlinks influenced this posts Google ranking.
Let's take a look:
As you can see, this post is ranked on the first page of Google for it's selected keyword.
We have a Google rank 4 in just 2 days.
I have not indexed any of the backlinks, so it is a set and forget strategy here.
I suspect as Google bot finds more of the backlinks this page will get to number 1.
I will keep everyone posted on the ranking results.
Please be aware that these backlinks are mostly in the footer or on the sidebar of the websites, they are not great quality.
However, they are certainly good enough for a quick rank boost, and will certainly rank easy keywords.
5 Month Rank Check: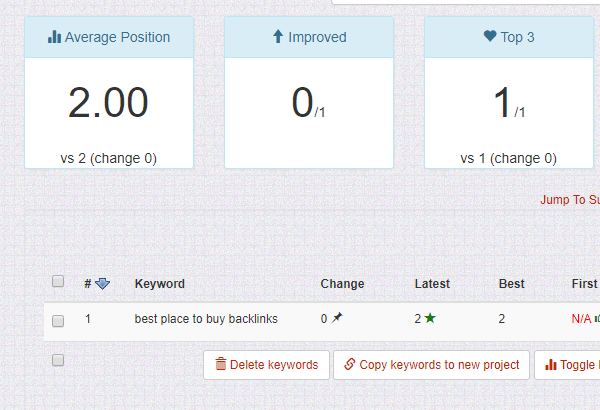 okay, the post has been live for 5 months.
This page is now rank no. 2 for the selected keyword, as you can see in the image above.
The ranks have stuck and the post has gone up.
I have not got any more backlinks other than the ones I did in the tutorial.
Nice little set and forget ranking tactic 🙂