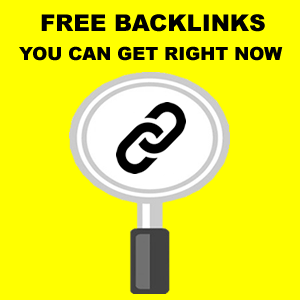 Here we have free backlinks you can get right now:
I have ranked sites number 1 in Google search with these links alone.
If you combine these free backlinks with high page authority Web 2.0 backlinks you have a very powerful ranking strategy.
I use these free backlinks for diversity, to mix up my anchor text.
My complete ranking strategy that works for any site includes:
Web 2.0 backlinks with high page authority
Social signals
The free backlinks shown here
Private blog network backlinks
You should take a look at my do it yourself seo guide for my complete step by step ranking strategy.
I have ranked a site no. 1 with a keyword difficulty of 24 using just the free backlinks shown below.
Before you go out and get these backlinks, you should always do some internal links first:
Go through all the content on your site and link back to your new content.
Vary your anchor text using your main keyword in there.
What you will need to get these backlinks:
Video
8 unique articles
8 images
I will do all these backlinks for my Web 2.0 Backlinks post on expired web 2 sites to show what effect they can have on your ranking.
Make sure that you choose a profitable keyword that has low competition to spend your back linking efforts on.
Let's Get Those Free Backlinks:
It takes a little time and effort to get these backlinks.
Make sure that you have selected the right keyword to see a good return on your time investment.
Step 1: YouTube
I always start off with a you tube video. This is super simple. Record a short video showing the new content that you just created.
In the description area drop a backlink to your money site. Remember to surround the link with text including the keyword that you want to rank for.
Make sure your video title has your keyword in there. Be sure to save your video file name by the keyword you want to rank for.
I always make the video about one minute long, then it will not take too long to upload. Remember, it doesn't have to be anything special, just a quick shot of your website.
That's it. You have your first free backlink. I always do this step first because I like to embed the video into some web 2 sites that I create.
That's my video, as you can see it is nothing special. This video is purely done for the free backlink and nothing more.
You should take a look at the video on YouTube to see how I got the backlink in the description. Remember to add some content around the text. I just write whatever pops into my head on the subject while the video uploads.
Step 2: Web 2.0 Sites
Here we have 16 of the best Web 2.0 sites for seo.
For this Web 2.0 backlink strategy you are going to need to write 8 unique articles. Do not scrape or spin these articles, write them yourself, this way you are pretty much guaranteed to get your backlinks indexed and recognised by Google.
Remember, you are promoting your site here, each and every backlink that you create is an asset and should be done with care.
We are going to create 8 articles of content, these will be our Web 2.0 Tier 1 links.
Then we are going to spin these articles, they will be used as our Web 2.0 Tier 2 links.
I like to build a two tier link wheel for my web 2.0 backlink strategy.
If you build a Web 2.0 site and link it to your money site and do not build any backlinks to that web 2 site it is known as an orphaned page. This kind of backlink will not have much affect on your Google ranking.
This is why I like to build a Web 2.0 link wheel. This way you get backlinks to your money site, and all your Web 2.0 sites get backlinks too.
The image below describes how this is done:
This method ensures all your Web 2.0 sites have relevant contextual backlinks pointing to them.
All Web 2.0 Sites backlink to your money site, including the tier 2 sites.
Get yourself a coffee, and write 8 articles between 500 and 800 words long. I usually try to aim for around 500 words.
If you are feeling lazy, you can use a free voice to text software. This way you will never have to type an article, you just talk and the software writes it for you. I have not used these personally, I prefer to type.
Make sure each article has a different title, which includes your keyword at the beginning.
I use keywordtool.io to get my titles. Just input your keyword, and hey presto, you have a load of titles for your 8 pieces of content. This tool is free of course.
Now I set up some web 2.0 sites. I get a free email from yahoo or mail.com and use that one email to set up all the web 2.0 sites.
Make sure the sub domain URL has your keyword in there.
Top Web 2.0 sites for backlinks:
WordPress
Weebly
Jimdo
Bravesites
Webnode
Blogspot
DrupalGardens (closed) you can replace with one of the extra web 2.0 sites listed below
Angelfire
Yolasite
Blog
Strikingly
Wix
Sites.Google
Tumblr
Medium
Webs
Some Web 2.0 platforms will remove your site, and your backlinks. The sites listed above are tried and tested, the links you create from these sites will stick.
Some will shut your site down for inactivity. The sites listed above do not.
More web 2.0 sites:
4thmedium.com
all4webs.com
ampblogs.com
ampedpages.com
anobii.com
beep.com
blackplanet.com
blog.ru
blogocial.com
blogolize.com
blogszino.com
bloguetechno.com
bravenet.com
brownpapertickets.com
bucketlist.org
byzblog.com
dreamhosters.com
dailystrength.org
ficwad.com
foursquare.com
freespaceway.com
full-design.com
fullerton.edu
gaiaonline.com
getjealous.com
gpugrid.net
grab.lv
heraldk.com
iamsport.org
indyarocks.com
kiwibox.com
miarroba.com
myblog.de
onesmablog.com
ourstage.com
page.tl
pages10.com
pointblog.net
postbit.com
projectwedding.com
purevolume.com
rediff.com
shutterfly.com
skyrock.com
snackwebsites.com
sosblogs.com
soup.io
storify.com
comtinyblogging.com
unblog.fr
wallinside.com
kzzotero.org
Now go ahead and add the 8 unique articles that you just wrote to the Tier 1 web 2.0 sites. Make sure you link them all as shown in the image above. I add the content to all the sites first, I then add the backlinks later.
You can also link out to another authority site, do not link out to a competitor. This is a top ranking site for your selected keyword. I usually link out to another authority site every third Web 2.0 site that I create, I do not do this on every Web 2.0 site.
We are trying to make things look as natural as possible here.
Make sure you add at least one image to each Web 2.0 Site. Make sure that the image file is named with your keywords in there.
I also add the video that we created in step 1 to some of the Web 2.0 sites.
Vary your anchor text as shown below:
You need to make sure your backlinks get indexed in Google:
First add the Web 2.0 URL to PingBomb.com. This is free to use.
Then add the Web 2.0 URL to LinkCentaur.com. This is free to use too.
Lastly, Google "Submit URL to Google". Then add your URL to Google search index.
If for whatever reason that does not get your Web 2.0 URL indexed, then fire a few Twitter and Facebook links at the page. You could even do a few Social Bookmarks for the site. This is sure to index your new Web 2.0 site.
Now put your Web 2.0 site URL into Google search to make sure that it has been indexed. There is no point in creating these Web 2.0 backlinks unless Google knows that they exist.
Next we need to spin the 8 articles used in Tier 1 to add to our Tier 2 Web 2.0 sites.
I use spinbot.com to spin articles, it is free to use. For a free spinner it is really very good, the articles it spins are actually readable.
To make a completely new article I take parts of each of the 8 original articles and fuse them togther to make a new article. Then I spin it.
So I would copy and paste paragraph 1 from article 1 into spin bot. Then I would copy paragraph 2 from article 2 and paste into spin bot. Then do paragraph 3 from article 3, and so on and so forth until I get to article 8. Then spin it, and there you go, you have a completely readable unique article for one of your Tier 2 Web 2.0 sites.
For the second Web 2.0 site in Tier 2 I will do the same again, but this time I will use paragraph 2 from article 1. I will use paragraph 1 from article 2, I think you get the drift.
Keep going with this process until you have 8 new articles and then pop them onto your Tier 2 Web 2.0 sites. Make sure you link these sites up.
This is what my web 2.0 link wheel finished up like:
As you can see, I have 8 web 2 sites in tier 1. I also have 8 web 2 sites in tier 2.
You should record all your backlinks in a spreadsheet as I have done. Make a note of the site URL and the anchor text used.
As you can see, I mixed up my anchor text. The green URL's are the ones that have been indexed in Google search.
Go ahead and take a look at the content on some of the web 2 sites, you can also see how I have linked them up.
As you will probably notice, there is no blog.com in my web 2.0 link wheel, this is due to the fact that their site was down when I created the backlinks. I just added another blogspot site in its place.
Step 3: Doc Share Sites
I always do this step after the Web 2.0 sites. This is because I spin the unique content I wrote for the Web 2's to generate new content for the Doc Shares.
Best Doc Share sites:
Issuu
Zoho
Drive.Google
Dropbox
Edocr
Of course there are loads more doc share sites. Believe me, I have tried them all. I now stick to these five for a very good reason. This is because these are the only sites that seem to index in Google for me.
This next part is a great time saver. I will show you how to spin your web 2 content to create new content for your doc share sites.
I only use free tools for this. Keeping this tutorial completely free to do.
Go to your first web 2 site, in my case it was WordPress. Copy and Paste the entire article into SpinBot and spin.
Copy and paste the re-written text into a text editor, I will use Apache Open Office because it is free.
Make sure you add your free backlink to the document. You can also add an image in there too if you want.
If you want to link out to another authority site then do so, I don't bother.
Now save the file as a .doc
Go to the first Doc Share site on the list above. Go ahead and sign up.
Then upload the doc file that you just created and hit the publish button.
With some of the sites you will need to make the document visible for everyone to see on the net.
Then you can take a look at your free Doc Share backlink.
Take not of the URL and follow the process above to get it indexed in Google.
Now go ahead and follow the same process for all the Doc Share sites.
For the second Doc Share site spin the second article on your second web 2 site.
I do not upload the same piece of content to each Doc Share site.
Take a look at how I have set up my free Doc Share backlinks. You will notice that I have varied my anchor text again.
Step 4: Image Sharing sites
dropshots.com
deviantart.com
photopeach.com
23hq.com
fancy.com
imgur.com
dayviews.com
pinterest.com
flickr.com
Upload the images that you added to your web 2.0 sites. Make sure you get your free backlink in the image description.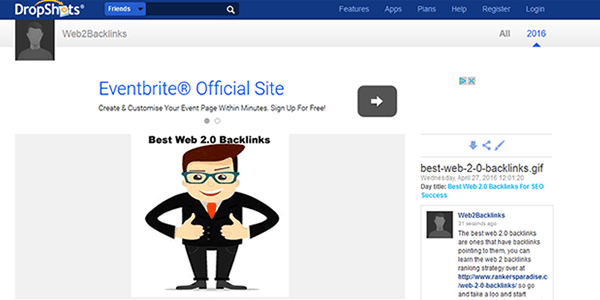 There you have it, a free image share backlink. Go ahead and do this for all 9 image share sites.
This is going to add some good diversity to your backlink profile.
Step 5: Niche relevant blog comments
There is a quick and rather very easy way to get niche relevant blog comments.
Free Weebly sites accept comments right away without moderation.
So do this Google search:
your keyword + weebly + comment
Go to the site and get your free comment backlink.
Always use your name as the anchor text, e.g Nick@RankersParadise, or your URL.
Step 6: Extras
imfaceplate.com
splashthat.com
list.ly
pen.io
rebelmouse.com
gaiaonline.com
kiwibox.com
blackplanet.com
sosblogs.com
purevolume.com
You can add any number, or all of these free links to your backlink profile.
I know that it takes a little time, but it is worth it if you have selected the right keyword.
If you do not want to do the work yourself you can buy backlinks cheap in our SEO store.
They are proven to work, they will save you a lot of time and money.
Step 7: Social Bookmarks
delicious.com
stumbleupon.com
digg.com
diigo.com
folkd.com
sitejot.com
youmob.com
newsmeback.com
scoop.it
Of course there are loads more, I do not use them because the links get removed as spam.
Step 8: Steal your competitors backlinks
You can steal your competitors backlinks using free software called SEO SpyGlass.
First of all, go to Google and search your keyword.
Now we have a list of our competitors. Let's find and steal their backlinks. Open SEO SpyGlass.
Insert the URL of your main competitor and hit the "next" button.
Wait for SEO SpyGlass to collect the backlink data. Then hit the "finish" button.
You will then be presented with a complete list of all backlinks pointing to your competitors site. The easiest backlinks to get, which you can get right away, are the ones from blogs, forums and link directories.
SEO SpyGlass allows us to take a look at these links separately.
You can click on the "Backlinks from blog & forums" tab, you can then visit the site and get these backlinks right away. These will of course be backlinks from blog comments and forum posts.
You can then click on the "Backlinks from link directories" tab, go to the URL and get those backlinks free and easy.
If you go back to the "All backlinks" tab, you can visit the remaining sites to reach out by email and ask for a backlink, either from the existing post or even from a guest post.
Let the site owner know about your amazing new content, you will be surprised at how many backlinks you can get this way.
Step 9: Grab some dead links
The trick here is to find expired sites in your niche. You then notify the sites that link to the expired site that they no longer exist.
You then politely ask the site to replace the dead backlink with a link to your related content on your site.
Let's get started:
First of all we need to find expired domains in our niche that have lots of backlinks pointing to them.
To do find the expired domains we are going to go to expireddomains.net. The site is free to sign up for and use any time.
Enter your niche keyword in the search bar and hit the "search" button.
Then click on the "DP" column (circled red). This gives you the sites with the most backlinks from the most domains at the top of your search list.
Now we have a load of expired web sites in our niche.
We can now find sites that link to these dead sites using SEO SpyGlass. Then we tell the site owner that their content links to a dead site. We then ask if they would mind using our site as a replacement for the dead link.
Go to SEO SpyGlass and enter the top domain into the "URL to analyse" bar and click the "next" button.
Take a look down the list to find a site that you would like a backlink from.
You can take a look at the metrics of each site using MozBar in order to analyse if it is a link worth getting.
If there are no decent sites, move on to the next site down on the list over at expireddomains.net.
When you find a site that you want a backlink from you need to visit the site.
Now you need to locate the contact page and inform the webmaster that their site has a broken link on that particular page.
Gently tell the site owner about your related content. Inform them how it would be a nice addition or replacement for the dead link within their content.
You are doing the site owner a favour, you have located a dead link on their site. You will get a backlink as a reward. Well that's the theory anyway.
This step is a little time consuming, but you can get some pretty powerful backlinks using this method.
Give it a go and let us know how you get on.
Step 10: Find niche targeted directories
Do this Google search string:
keyword + directory
keyword directories
keyword + "submit site"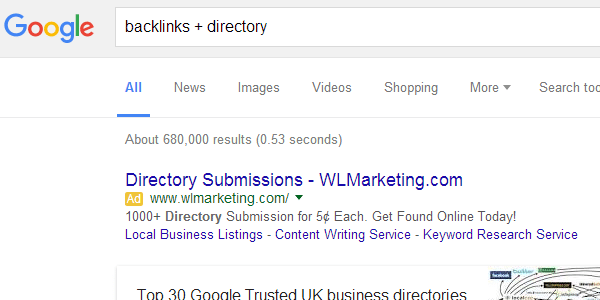 Step 11: Find niche relevant forums
Again this is another simple Google search string:
forum + keyword
keyword + forum
That's it, a whole load of free backlinks for you to be getting on with.
I only use these free backlinks to add diversity to my anchor text.
If you use these backlinks, the expired web 2 backlinks and private blog network backlinks you have a very good ranking strategy.
You can always start your backlink mission with these free backlinks, remember to log your ranking position. I have ranked sites with these links alone, so it is possible.
Get Someone Else To Do All This Work For You
If this sounds like too much work for you, then there is a great service that I have used myself and know is really very good.
This particular gig will get you a lot of these backlinks here, and more actually, for just $20.
Get these free backlinks done for you: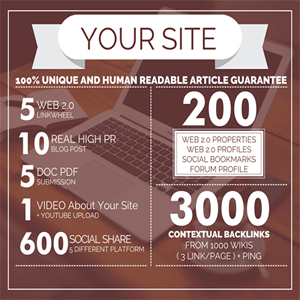 This is a very good service, you get a whole lot of work done here for just $20. It will save you loads of time.
I have used this service myself many times when I have been strapped for time.
The service will create you social bookmark backlinks and web 2.0 backlinks.
You will get Doc Shares done for you, web 2.0 sites done for you with log in details provided.
You even get social signals, which is worth the $20 alone.
Pretty much all the backlinks talked about here are done for you and you even get wiki backlinks thrown in there too.
I know that they also provide backlinks from high page authority web 2 sites too.
Yes, you can get these backlinks yourself for free. But if you are short on time, then this is the service for you.
You can get this done in the Rankers Paradise store, get it here.