I am going to show you how to find expired web 2.0 without using software.
Everything is done manual and is completely free.
This means you do our web 2.0 backlinks ranking strategy to rank top without spending a single dime.
I should also mention, you can find niche related expired web 2 platforms using this method.
It takes a little time to find expired web 2.0 manually, however it is most definitely worth it.
You can find some amazing web 2.0 sites this way. They will be a very powerful ranking tool for you.
Remember, if you do not have the time, you can buy expired web 2.0 domains (including Tumblr) in our seo store.
We can get you any expired web 2.0 platforms that you desire.
To get this done you are going to require three tools (all of which are free) and you probably already use two of them right now.
You are going to require:
Google Chrome (browser)
Check My Links (Chrome Add on) – check for dead links
MozBar (Chrome Add on) – check metrics
This method is very easy to follow, you will have some amazing Tumblrs in your web 2.0 PBN network very soon.
Let's get started.
Find Expired Web 2.0 – Tumblr
I am going to find expired Tumblr blogs with good metrics in this tutorial.
Of course you can go ahead and use this method to find any expired web 2.0 platforms that you desire.
First of all you need to get yourself the three tools you need to do this.
You can follow the links below to get them installed, of course you must get Google Chrome first.
When you have those in place you can get started with the exciting stuff.
Believe me, you can find some pretty amazing Tumblr blogs that have some serious rank juice.
Do not underestimate these blogs, they still work today.
I will now show you how to get an add on installed on Chrome and ready to use.
To add the Check My Links add on to Chrome I will go to the add on page, link above.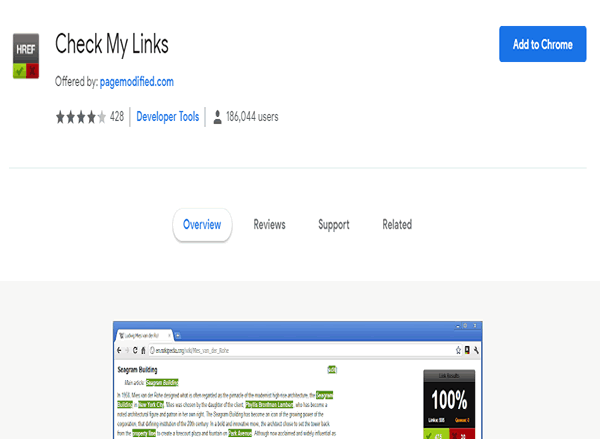 First of all click on "Add to Chrome" top right.
Next click the "Add extension" button on the pop up window.
Now you will see an options page, leave everything on default.
Simply scroll to the bottom of the options page and click the "save my preferences" button.
Do exactly the same thing to add the MozBar extension.
So now you will be using the Google Chrome browser window, which will have two add on's installed (Check My Links and MozBar).
To use each add on you need to select them on the toolbar.
You will see the new add on's in the tool bar at the top right of your browser (highlighted in red above).
Simply click on each of the Chrome add on's to activate them.
Now you have the free tools in place; Google Chrome Browser, Check My Links and MozBar it's time to find some expired Tumblr web 2.0 blogs.
First of all perform a Google search string like this:
site:tumblr.com/profile + "insert your keyword"
Perform the search string as shown above. Of course to find niche related expired web 2.0 blogs you can enter your exact keyword into the search.
Now you need to scroll through the results and click on the results starting at the top.
Beware that you will not find dead links on every page, it takes some time, but is well worth the effort.
So the next step is to use the Check My Links add on to find some dead Tumblr blogs with rank juice.
Go ahead and click on a site in the Google SERPs.
When you arrive at the site hit the Check My Links add on as shown above.
We are looking to find "Invalid Links".
This means we have a link on that web page that points to a dead Tumblr blog.
The more dead links we find the better.
Most of the time you will not see any dead links.
Keep running through the sites in the Google results pages until you find a site like I have above that shows an invalid link.
Next we need to find the invalid link on the web page, this is very easy, the Check My Links add on highlights them in red.
So go ahead and scroll down the web page to find the dead link (highlighted in red).
As you can see I have found the one dead link on the web page I have open.
The dead link will be shown as above, it will be highlighted in red and show "404" after it.
All good links, as you will probably have gathered are highlighted in green.
So, I have found an expired Tumblr blog (this is the dead link).
Next you can go ahead and click on the dead link to head on over to the expired Tumblr blog, we need to do this to check the metrics before we register it.
The Tumblr 404 error page looks like this (above).
Now we can use MozBar to check the metrics, is this expired Tumblr worth registering?
Does the Tumblr have backlinks to it and some rank juice I can use to rank my sites higher?
Go ahead and click on the MozBar add on to see some metrics.
Off course this is just a guide, you can use other tools to check trust flow and citation flow if you want to.
As you can see, this expired Tumblr blog has a domain authority and page authority of 27.
The site actually has a lot of backlinks, 12,724 in fact, this could be very useful.
To see a backlink report click on "12,724 links" shown on the MozBar.
I can see this expired Tumblr blog has some backlinks to it from some high authority sites. This is great!
The anchor text profile leads with "Brand". This is also a good sign.
The last step before I register the blog is to check if this expired Tumblr is still indexed in Google.
This makes things easier down the line.
To do this simply paste the full URL into Google search.
The blog will show in the search results if it is indexed.
As you can see, this particular blog is not indexed.
To index this expired Tumblr I will fire backlinks to it from other Tumblrs in my network that are already indexed.
So, when Google bot crawls my indexed blogs next it will find and index this new Tumblr blog.
If you don't have any indexed web 2.0 blogs in your network yet, you can buy our 50 Tumblr backlinks service to get this done.
Now that you have found an expired web 2.0 blog with good metrics you will need to go ahead and register it, of course this is free too.
Say I wanted to register the expired Tumblr blog I just found, I would do the following:
Register Your Expired Web 2 Blogs
First of all head on over to the web 2.0 platform that you want to register the blog with.
In my case it is Tumblr.
Hit the "Get Started" button.
You can use a fake email to register them, I always use this fake email service, it is the best.
Now you need to enter your registration details.
Enter your email, password and username.
The username is the most important part.
You must ensure you use the same username of the expired Tumblr blog you found.
In my case it was this:
Your username must be the name of the expired web 2.0 blog that you want to re-register.
In my case it is "official-blackpink".
As you can see, the username is the sub domain name for the expired Tumblr blog you want to register.
Go ahead and hit the "Sign Up" button.
Don't forget to verify the email, you are done.
You now have another powerful ranking tool in your web 2.0 blog network.
You can do this process to find any expired web 2.0 sites on any platform including Weebly and others like Strikingly.
To see a web 2.0 blog list follow the link.
If you can find niche related blogs with good metrics from 5 different web 2 platforms you can use them in the web 2.0 link wheel ranking strategy on tier 1.
When building backlinks it is very important to use the correct anchor text.
If you are unsure about what anchors to use for your backlinks take a look at this.
Using this strategy you will be able to find expired web 2.0 with amazing metrics.
As always, if you have any questions, leave a comment below.
Reviews
[RICH_REVIEWS_SHOW category="page" num="10″]
Leave a Review
[RICH_REVIEWS_FORM]
Rating
[RICH_REVIEWS_SNIPPET category="page"]