This is my complete do it yourself seo guide.
I use this exact step by step strategy to rank sites no. 1 in Google search.
This is diy seo for small business and one man affiliate site ranking machines.
Can I do my own seo?
Of course you can.
Go ahead and learn seo step by step using the free diy seo resources listed below.
I will show you how to do seo work yourself like a pro.
This is how to do my own seo for my website in 5 easy to follow steps.
This is the ultimate tutorial on how to do seo yourself on a budget. I only ever use free tools, it's all you need.
Free to use do it yourself seo software and sites:
Google Adwords
MozBar
Rank Tracker
SEO SpyGlass
Expired Domains
Internet Archive Wayback Machine
Ping Bomb
Linkcentaur
This is an seo tutorial for beginners and experienced rankers;
I use this seo for my site, it's simple to follow and it works.
Follow my step by step seo tutorial and you will be ranking no. 1 too.
Before we start the tutorial, you need to understand a few things first.
Let's get that out of the way, then we can get on with the real exciting stuff.
Ranking no. 1 is exciting, it makes me loads of money and I love it.
You will too when you get the bug. It only takes one site to get you on the hook, then you keep going back for more.
The first thing that you need to know is the main Google ranking factors. This part is important, so do not skim over it.
Let's crack on:
Important Google Ranking Factors
Keyword in domain name or URL extension.
Keyword in Title Tag.
Keyword in Description Tag.
Keyword in on page headings.
Keyword in image alt tag and file name.
Keyword density. (keyword needs to appear at top, middle and end of content)
In depth quality unique content.
Internal links.
External backlinks.
Social signals.
Click through rate.
Bounce rate.
Time people spend on your site.
Of course there are over 200 ranking factors.
These are the most important to me when I do seo for my website.
Fulfilling the Google ranking factors is how to do seo optimization yourself.
How To Start SEO Of A Website
It's important to know how to start seo of a website.
Get the first part right and you will be on your way to ranking success.
You will be so much more confident in ranking no. 1 if you take your time to select your main keyword for your content.
Always focus your amazing content around one specific keyword, this keeps things nice and simple.
If you pick a keyword where the top ranking sites are not optimized for the selected words, you will find it easier to rank.
It's all about how well you spend your time, keyword research is super important.
We want to work smart, we want to find keywords that will yield us a good return on our time investment.
I have done an in depth tutorial on how to establish if your keyword is profitable and easy to rank number one for in Google search.
Let's get started on how to do seo for website step by step.
How to perform seo for a website is up to you, this is how I do it, this is what works for me.
Step 1: Keyword Selection (Niche Selection)
I always start by writing down keyword ideas.
Then I pop these words into the Google Adwords Keyword planner to find out how often the term is searched for on a monthly basis using Google search.
First you will need to sign up for a Google Adwords account. This is free to do.
From the main dashboard select "Tools" then "Keyword Planner".
Now click on "Search for new keyword using phrase, website or category". Then enter your "keyword" in the "Your product or service" area. Then enter the countries you are targeting, for my tutorial I went for "United States". Then hit the "Get ideas" button.
Now click on the "keyword ideas" (circled). We can then see the monthly search volume for our selected keyword.
Now you will receive a long list of keyword ideas together with their monthly search volume.
You need to completely ignore the "Competition" column, this has nothing to do with ranking competition.
This is the competition for advertising on paid Google search. It is relative to how many advertisers are bidding for that keyword, it has nothing to do with how hard or easy it is to rank in the organic search for that keyword.
So you now know how many times your selected keyword will be searched for each month.
Now we need to know how easy it is to rank for your selected keyword.
For this step we are going to use two tools, which are free of course.
The first one is called MozBar. It allows us to analyse our selected keyword a little further in order to establish how easy it is going to be to rank no. 1 for.
Add the MozBar extension to your browser window and head on over to Google.com.
Now Google search your selected keyword. You will notice some rather useful SEO metrics under each of the top ranking sites.
What you need to look for to get an easy to rank keyword:
PA needs to be low.
Very few backlinks.
No Keyword in Title.
No Keyword in Description.
No Keyword in URL.
Take a look at the top ranking site for my selected keyword "web 2.0 backlinks". The page has a very low page authority and zero backlinks.
The keyword is not in the Title or Description, or even used in the URL. This is a site that is going to be very easy to outrank for this selected keyword.
You should also take a look at the quality of the content that sits on the top 10 sites. If the content is thin and the quality is low, you can be certain that you can beat it.
We will talk later about how to write supersonic content that will rank like a dream.
We are very certain that we can rank for this keyword, however there is one final step I like to take to make sure.
If at this point you do not think that your keyword is easy to rank for then you need to select another keyword from Adwords and start again.
Let's analyse the top ranking sites using Rank Tracker. This free software is awesome, I use it all the time. I highly recommend getting Rank Tracker.
Not only will Rank Tracker evaluate keyword competition for you, it will also track your keyword ranking for you.
Go and get yourself a copy of Rank Tracker. Now open up Rank Tracker.
Enter your site URL or even the top ranking sites URL. It does not have to be your URL, we are just checking the selected keyword competition here. Then hit the "Next" button.
Next you can connect your Adwords account or Analytics account details. I do not do this step, you do not need to do this for keyword competition analysis. Now click on the "next" button.
However, if you want to use Rank Tracker for keyword research, then you will want to connect your Adwords account. I just login to my Adwords account direct for keyword search volume research, it's good to know that you can perform this task from the Rank Tracker software should you wish to do so.
The video below shows you how to build a keyword list with Rank Tracker:
Now pop in your chosen keyword and hit the "next" button.
Now select your preferred search engine. I am using Google.com, you can add as many as you need to. Then hit the "next" button.
Now wait for the software to look up the rankings for the keywords and site you selected.
Hit the "finish" button to see the ranking report.
Take a look at the ranking report. You will notice that RankersParadise.com is ranked no. 6 on Google.com for the keyword "web 2.0 backlinks".
Now we can do what we came onto the software to do. Analyse our keyword competition.
To do this select "Keyword difficulty" (circled) and hit the "Update" button (circled).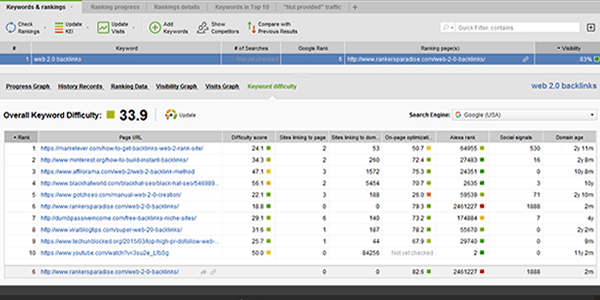 Now we can analyse the top 10 ranking sites for our selected keyword. You also get a keyword difficulty score, the "web 2.0 backlinks" keyword has a difficulty score of 33.9.
This is an easy to rank keyword, you are looking for keywords with a difficulty score of zero up to about 45. Anything higher will take a lot more effort and time to rank.
It can be done with this system, it just takes a whole lot longer.
What we want to see:
Very few sites linking to the page.
Low on page optimization scores.
Few social signals.
As a final step in this section I will take a look at the backlinks that point to the top ranking sites.
If the no. 1 ranking site has a load of backlinks we can still out rank them by getting better quality backlinks.
To find out the quality of our competitors backlinks we are going to use SEO SpyGlass.
SEO SypGlass is another free piece of software that is very much so worth having. Go ahead and download SEO SpyGlass and we can take a look at our competitors backlinks.
Open SEO SpyGlass.
Enter the URL for the no. 1 ranking site for your selected keyword and hit the "next" button.
We can see that there are 19 backlinks pointing to the top ranking site for my selected keyword.
Now we can take a look at the quality of these links using MozBar again.
To do this just click on the arrow at the end of the "backlink page" column. This will open that website in your browser window, make sure it goes to the browser that you have MozBar set up on.
This site links back to the top ranking site for my selected keyword. Using MozBar I notice that the backlink comes from a site with a page authority of 17.
The page also has zero backlinks pointing to it, we can certainly get better backlinks than this. It's also worth noting the type of backlink, is it from a comment, or is it contextual.
In this case it is from a comment, which has low authority. We can better this backlink by getting relevant contextual backlinks from pages with higher page authority.
Now go ahead and do this for all the other sites that link back to the top ranking site for your selected keyword, make a note of their PA and the no. of backlinks that they have.
This will give you an idea of how many backlinks you need to rank no. 1 and the quality that they need to be.
I will show you how to get these backlinks later, fast and easy to outrank your competition.
Now you should be ultra confident that you have a keyword (niche) that you can rank no. 1 for with minimal effort.
The video shows you how to analyse your competitors backlinks using SEO SpyGlass:

Step 2: Domain Name
If you already have a domain name then you can skip this step.
It's important to find a good domain name. I never use exact keyword match domain names, however I will get the main part of my keyword in there somewhere and then brand it up.
You should know that domain age is a small ranking factor, the older the domain the better. You can find aged domains for sale with good metrics over at expireddomains.net.
You can also use this step to find aged domains to build a private blog network to use to build backlinks to your money site.
I do not do this any more, I use other peoples private blog networks for backlinks. I will show you where to get these backlinks from later.
You need to make sure that you get a spam free domain, I will show you how to do this now.
Go to expireddomains.net, it is free and very easy to use. Sign up for an account.
Enter your main keyword into the search box. Click on "show filter" text.
Set up the "common" tab as shown. Make sure that you select "only available domains" and set the minimum no. of backlinks to 30.
Click on the "Adwords & SEO" tab and enter 15 into the DA and PA Moz.com metrics.
Now hit the "Apply Filter" button.
Take a look at the expired aged domains that are available to register right away.
The "mybacklinksite.com" has 905 backlinks from 87 different domains. To check if these backlinks are spammy or not you need to run the domain through SEO SpyGlass like we did above.
We are looking for backlinks from related sites, mostly using the URL as anchor text.
Any backlinks from Chinese sites or overuse of keywords for anchor text leave alone and move onto the next available domain.
You can pop the URL into your browser and take a look at the Moz metrics for each domain. You can also find out what the website used to look like by going to the Internet Archive Wayback Machine.
I would not buy this domain, I am just doing this to give you an idea of how to find an aged domain that you can use to rank no. 1 on Google search.
As a final precaution you can run the domain through Google search. If the site is listed you can be certain that it is not a spammy domain.
When you find a domain that you like, click the "register" text and grab that domain.
Step 3: Write Quality Content
Now we have a keyword that we are confident that we can rank for. Now it is time to make some awesome content that will rank no. 1.
To rank no. 1 your content has to be focused around this particular keyword.
We have already looked at the quality of the content that already exists, we are going to write a more in depth article with added quality to what we have already seen on the top ranking sites.
This is what needs to be done:
Make sure that your keyword is in your URL. My selected keyword was "web 2.0 backlinks", which you can see is clearly in my URL extension.
Make sure that your selected keyword appears at the beginning of your Title Tag.
Make sure that your keyword appears in your Description Tag.
Make sure that your exact keyword is in your H1 heading (the main heading at the top of your page).
You can also pop parts of your keyword in other headings further down the page, in your H2 and H3.
For example, I would do a second heading as " best web 2.0 sites for backlinks". It has all the words in there for my selected keyword, just not in the correct order. This is so we do not over optimize the page.
Make sure that when you save the image that you are going to use at the top of the post you name it by your exact keyword e.g (web-2-0-backlinks.jpg). You will also want to use your keyword in the ALT tag for this image.
If you want to know how to add your ALT tag in WordPress click here.
The top ranking sites have in depth content around 2000 words long. Make sure your article is in depth and mention your keyword at the top, middle and end of your content.
Do not mention the keyword too many times in your content, your keyword density should be around or below 1%, do not worry too much about this, just write naturally and then check your density at the end to make sure that it is not too high. You can use the Yoast SEO WordPress Plugin for this job.
Your content must be unique and offer something different to what is already out there.
Step 4: Backlinks
The easiest backlinks to get are internal backlinks. After I publish a new piece of content this is the very first step I take.
I go through all the content on my site and drop a backlink within the text to my new page. Be sure to mix up your anchor text here, also pop in a few exact match keyword anchor text links too.
Now that you have your quality content optimized and published it is time to promote that content and get some backlinks to start ranking.
My backlink ranking strategy consists of:
Free backlinks
High page authority web 2.0 backlinks
Private blog network backlinks
Social signals
Do not build backlinks too fast, take things slowly or you will hit the Google Sandbox.
To a brand new site you can start by building free backlinks.
I have done a complete step by step tutorial on how to build free backlinks, check it out now and get some of these backlinks today. I recommend no more than 5 backlinks a day.
The free backlinks are done for anchor text diversity. You should not use your keyword as anchor text every time you build a backlink, you need to mix things up to make things look as natural as possible.
Backlink anchor text profile:
URL
Random words (click here, go here, visit this site etc)
Exact Keyword (web 2.0 backlinks)
Variations on your keyword (complete web 2.0 backlink strategy)
Brand (e.g Rankers Paradise)
I only do the free backlinks to any page once over. Then I move on to the next step, which is my weekly ritual.
Remember that you are in for the long haul, keep building the next lot of backlinks until you rank no. 1.
I do the next step over and over every week until no. 1 ranking is achieved. The worst thing that you can do is to quit thinking that the backlinks are not having any affect, trust me, they will.
It can take around 3 months of constant backlink building and page tweaking until you rank no. 1 for any selected keyword.
Do not give up until you reach the top spot!
Too many people give up after a month thinking that it is never going to happen.
This is why keyword research is the most important step. Choose a low competition keyword and you are certain to rank no. 1 in at least 3 months with the strategy shown here.
My weekly backlink schedule:
First Step: I will build 7 high page authority Tumblr backlinks to my site. I have an in depth tutorial on how to get high page authority web 2.0 backlinks, read it and follow step by step.
I never use exact match keyword anchor text for my Tumblr backlinks with this strategy, I save that for the more powerful private blog network backlinks.
I buy 7 expired high page authority Tumblr blogs for $1 here.
The anchor text I use for my 7 expired Tumblr blog backlinks are:
Second Step: I add 5 private blog network backlinks, all of these backlinks use my exact match keyword for anchor text. I do not use my own private blog network, you can get 5 private blog network backlinks from seoclerk.com for $5.
I use these myself and know that they are awesome. Why waste your time building a private blog network when you can use another persons, at $1 a backlink these are awesome. The full blog post sits on the high page authority home page too, they certainly pass on some serious ranking juice.
The key to success with these private blog network backlinks is to write the content yourself. I will quickly write 5x 500 word articles with an image for good measure.
How to get your backlinks indexed:
There is no point in creating backlinks to your site if Google does not know they exist.
This is how I get Google to know about the backlinks that point to my site.
I do these steps in this order:
Google search "submit site to Google" and simply submit your link URL to be indexed.
Go to pingbomb.com and run the URL through the system.
Go to Linkcentaur.com and add the URL to their system.
All of these are free to use. This pretty much guarantees to get your backlinks indexed in Google search.
To find out if your link has been indexed simply pop the URL into Google search.
If it has not been indexed wait a few days and repeat this process.
If that does not do the job throw a few social signals and social bookmark backlinks at the URL and it will definitely get indexed.
The last part, which you do not have to do weekly, but it certainly helps, is to get some social signals.
Google Plus and Facebook shares and likes are the most influential at improving search engine ranking.
For just $1 you can buy 1500 social signals from Google Plus, Facebook, Pinterest and Linkedin. I do this weekly until I rank no. 1. You can do this monthly if you wish.
Step 5: Traffic
The last part of the ranking puzzle is traffic.
Google registers how people interact on your site. They look at metrics like:
How long people spend on your site
How many pages are viewed by each visitor
If they bounce back onto Google search not satisfied with your content
This is also part of my weekly SEO routine.
I buy 1 weeks keyword targeted Google traffic for $1. This ensures that bounce rate for my site stays below 30%, visit duration stays high (around 2 minutes), and the amount of pages viewed stays above 2.
Complete Do It Yourself SEO Ranking Strategy
There you have it, my complete ranking strategy from start to finish.
We have taken care of all Google ranking factors.
Of course it's not an entirely do it yourself seo guide, you do need to outsource a few things. But the total weekly cost to rank a site is minimal.
Total weekly costs: $8
$5 Private blog network backlinks
So for just $8 you can rank a website no. 1 in Google search.
Of course when you hit the no. 1 spot you can move on to your next piece of content.
When you rank no. 1 you do not need to continue with the weekly backlink building strategy, you can slow things right down and build a few backlinks every month.
Sometimes I do not build another backlink when I hit the no. 1 spot unless my ranking slips.
You should always record all your backlinks in a spread sheet including this information:
Backlink URL
Anchor text used
Date created
Your current rank for selected keyword
You can track your ranking using the Rank Tracker software that I talked about earlier. I check and note down my ranking changes every two weeks.
I use this ranking system myself, I am a one man ranking machine. I do all seo myself, apart from outsourcing a few things that I have let you into here.
If you need a little blast up the SERPs you could also try The 301 Elevator Effect ranking boost tactic. I use this tactic when my sites get stuck in a position, or if I am short on time and need a set and forget ranking strategy for any of my sites. It uses 301 re-directs and is very quick and easy to set up and get your site moving up the SERPs.
The people that rank go ahead and experiment, seo is constantly changing, you will have to keep tweaking the strategy to make it fit. It works today, I will let you know if things change.
This is most definitely a black hat approach, use at your own risk.
I only started to use this system about a year ago, when I noticed sites out ranking me clearly using private blog networks.
If you wait for links to come you could well be waiting a very long time, especially affiliate sites.
I decided I was going to make things happen, and I certainly did.
If you are fed up with not ranking even though you have created awesome content, then get on this do it yourself seo guide and start to make things happen.