The Smart Article Generator is by far the cheapest content creator you are going to come across anywhere.
You can get this software for a one off payment of just $27.
I am going to create some content with it and let you decide for yourself if it is any good or not.
Other content generators are well over $200 and require yearly or monthly subscriptions.
I chose Smart Article Generator because it is affordable to everyone, even if you are just starting out in the lovely world of SEO.
In a nut shell this is what you are getting with this software;
Create readable content in under 10 minutes
Create multiple articles from one article
Spin articles with the click of a mouse
I am going to use the software right now to create some content for a Tumblr blog with a backlink in there to my epilator affiliate site project.
This will help you decide if this is the right tool for you are not.
This video shows a very quick demo of the content creator in use:
Content Creator Tutorial using Smart Article Generator
Okay let's get started.
Open up the Smart Article Generator software. Go here to get your copy if you do not have one.
I am going to create an article about "epilator reviews". You can use this content for your PBN of self hosted sites or web 2.0 sites.
I am going to pop the content onto a Tumblr blog for a backlink to my epilator reviews site.
To learn how to scrape high page authority expired Tumblr blogs with backlinks for free go here.
First of all add your main topic seed word, this will be your keyword. So I typed in "epilator reviews" into the Topics text column (circled red).
Now click the "Add" button circled red and then answer the "Main Topic" question, is your term singular or plural. Mine is plural so I hit the "No" button.
Then the software will start to generate some text in the top content creator window based around your keyword.
The bottom window is where your unique article will sit. All you have to do to add content to your article is double click on the text that is in the top window.
To draw more content you can add other search terms into the software.
The content creator is incredibly easy to use, you can even edit the article in the bottom window by removing or even adding your own words into the text.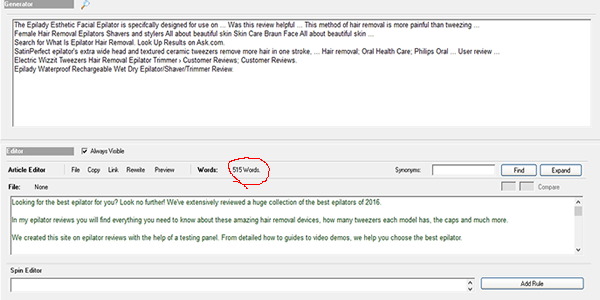 That's pretty much it, I have created a 500 word piece of content in under 5 minutes.
The content itself will be not be unique yet, we will need to use the in-built spinner to make it a unique piece of content.
Now we can hit the "Rewrite" button and select "Rewrite Complete Article". This will use the in built spinner to rewrite the content and make it completely unique.
In the same window you will be presented with your re-written piece of content.
Now head on over to plagium.com to check if it really is unique.
Copy and paste your article into the Plagium.com text area. As you can see, Plagium did not find any sites on the net using the content I created using the Smart Article Generator software.
This is rather awesome, in less than 5 minutes I have a completely unique 500 word piece of content for use on my PBN. This is a great content creator for the price.
I am going to pop this content on my Tumblr blog for you to take a look at.
I want a catchy title for my new blog post so I am going to use seo pressor to generate that for me (it's free).
Pop in your keyword and hit the "Generate Titles" button.
Select a title for your new piece of content. I like the bottom one, so I will copy and paste that into my Tumblr blog post.
You can take a look at the content that I created using Smart Article Generator here:
eastcoastenthusiast.tumblr.com/post/151290782197/5-benefits-of-epilator-reviews-that-may-change-your
Pretty good for 5 minutes work.
Now I could repeat this process over and over again to create more content for my PBN sites.
However I want 10 pieces of unique content for my Tumblr blogs.
Now I want to use the same article to create 9 more pieces of unique content. Is this possible with the Smart Article Generator. Can a content creator so cheap do this too.
Of course it can, and this is how you do it.
Simply select the "Re-write" button and then select "Rewrite Complete Article" and you will have a new article a little different to the original. The software will tell you how many words have been replaced in the original article.
You can repeat this process over and over. I created 10 unique readable articles in less than 10 minutes in total.
Even if you just use the software for its spinner it is worth the price alone.
It saves me loads of time and is most definitely well worth the money.
Those are the basics covered, you can do a lot more with this content creator.
Let's take a look at what else this software can do.
Advanced Smart Article Generator Features
You can get the Smart Article Generator to scrape more content than you will ever need.
To do this you just need to add more topics.
In my tutorial above I just entered one keyword. You can add more keywords into the topics area to generate more content in the top window.
The first keyword that you enter needs to be your main one. You can then enter more keywords in the second Topic area and click the "Add New" button. Then you will also get content related to your main keyword and the additional keywords too, pretty smart right?
You can add as many keywords as you want, the content will just keep on scraping through while you build your article up in the window below.
You can click the "Add Bulk" button to add more keywords for the software to scrape content for.
If I wanted to add bulk keywords I would add something like this:
epilator
reviews
Braun
hair removal
This would then bring up even more text for me to use in my content creator window.
To get the best results out of the software avoid repeating keywords. So I would not use "epilator" and "Braun Epilator" in the same Topic area. I would use what I have suggested above.
You can even rewrite the content while it is being generated.
As the content is being scraped into the top box you can rewrite it before you add it to your article.
You simply right click on the line of text you want to spin and select "Rewrite". Then it will add a unique line of text to your article.
When you rewrite the text using the in-built spinner you will be presented with this window.
It tells you how many words have been replaced in the content, and how unique it is compared to the original piece of content.
Just click the "Add to Article" button to add the unique text to your content.
If that's not enough for you the content creator software will even select random text for you to add to your article, making life even easier for you.
To add random sentences to your content simply click the light bulb (circled red).
Then random sentences will appear quickly, you just need to click on them as they pop up and they will appear in your article in the window below.
It is noted that you will get better results with this option if you go for a highly targeted keyword and not a broad keyword topic subject.
You can right click on any random sentence that is generated to make it unique. You can rewrite it there and then, or even join sentences together. This is a really clever piece of software, when you get in line with everything that it can do it will be incredibly powerful to you.
You can even select "Reverse". This will change the order of how the sentences lie, making everything completely unique when you come to spin it.
You don't even have to use the whole paragraph displayed. You can select the second line, the first line or any part of it that you want to use.
You can create many pieces of content from one article. I have shown you the easy way above, however there is another option available.
From one article we can create many pieces of unique content.
Simply select the text you want to spin.
Then enter different lines of text that can be used for that one sentence.
Then simply click the "Add Rule" button which will create a spin rule for when we spin it.
To preview your article just click the "Preview" button. You will then be presented with 2 new articles. Each time you press the "Spin Again" button you will be presented with 2 new pieces of content.
This is great because you can compare each article to ensure they make sense and are completely different.
This is a really fast way to get lots of unique content for your self hosted and web 2.0 PBN. This type of content is highly likely to index in Google search.
Each block of text that you want to spin can have 3 or more variations each. This will help you make many different unique pieces of content from one.
You will be pleased to know that you do not have to enter different lines of text yourself if you do not want to.
Just select the text you want to change. Then select "Spin Editor" from the top drop down menu.
This is the easy way, then you just select some alternative content for that select block of text and you are on your way again. How easy is this software to use?
You can even skim through the text yourself and change words as you go to make a new article using the built in synonym finder.
Simply highlight the word or enter it into the Synonyms box and the software will find replacement words for that one.
You can even rewrite the content in spin format, this will make it super easy to create multiple pieces of content from one. Simply select "Rewrite Complete Article (Spinnable Format)" and you are good to go.
Remember you can rewrite part of the content if you want to. Just highlight the text that you want to spin and click the rewrite button.
You can even add to the content yourself. Simply click in the content area and write away to your hearts content.
After you spin the article, click "file" and then "save". Then spin again, click "file" then "save". You get the idea, it is very quick to spin the content and save it to your PC from the software itself.
When you click "File" and then "save" you will be asked if you want to save multiple copies of your article. This will be done if you have used "Rewrite Complete Article (Spinnable Format)".
I selected "yes".
I wanted 10 copies of my content.  So I put 10 into the number of copies box and hit the "OK" button. Each copy will be spun with the rules we selected earlier, in turn creating a new piece of content.
Save the files into any folder on your PC. Viola, you have 10 unique pieces of content ready to post to your self hosted and Web 2.0 PBN.
This content creator software is a real game changer, it is going to help you pump out articles fast. When the content comes fast, so do the backlinks, and that is what we are doing all this for after all.
You can load this content into your Rankwyz.com account, which will auto post it to your PBN whenever want it live. Take a look at my automate your backlinks post for information on how to do this for free.
You can even modify the dictionary to tailor it to your needs.
To do this select the "Open DB" option and then select "Update Synonyms" when you are done. You can import words into the software, this is an awesome feature which I will make use of later.
That's pretty much it. This is an awesome content creator which is going to come in very useful.
Like I say, it is so much cheaper than anything else out there. For the money it is bang on, just what you need to speed up your backlink creation process.
For just $27 it is worth every penny, I am going to be using it daily from now on. You can go and get your copy here.
You could also go down the Kontent Machine route, however it is a lot more expensive. It starts at $217, it is the best that you can get by a long way. If you don't have the cash for it then Smart Article Generator is the way to go until you have built up some cash.