I am going to show you some very simple steps to follow to improve your search engine optimization (SEO). As you complete each step your website will climb up the rankings. Results can be seen in days.
After you have completed each of the 5 steps you will know how to improve SEO on your website and achieve higher search engine placements for your selected keywords.
How To Improve SEO Step by Step
If you have a website that has been around some time already then it is highly likely that it is already ranking for some or even a lot of keywords.
The problem is, these keywords are probably on page 2 or even lower, which means they are bringing zero traffic to your website. Follow the guide to learn how discover these keywords and push them up the rankings.
If you have a new website you can skip to the keyword research section and work from there. Adding quality content to your website that is strategically optimized will land on page 2 of Google for just about any keyword if it is done right.
Every tool that we use in this guide is completely free. You can improve your website ranking without spending any money on SEO tools.
1. Find Existing Keyword Rankings
To discover the keywords your website is currently ranking for go to Ubersuggest.
Another free tool you can use is called Rank Tracker. You can put the results from both tools into a spreadsheet for analysis. Note that each tool will probably deliver different results, some tools work better than others.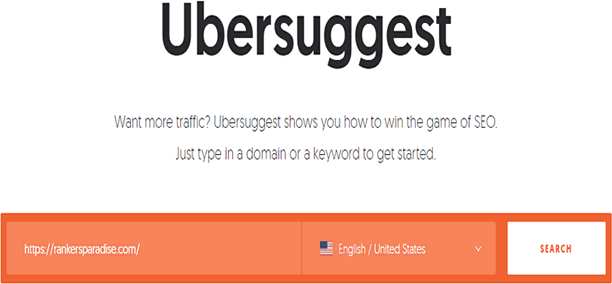 Drop your website URL into the search box and go ahead and click the "SEARCH" button. Make sure you select the correct location from the drop down menu.
The results screen will show you how many keywords your website is ranking for. Scroll down the page to see a list of your SEO keywords.
You should be aware at this point that the top 5 sites get the traffic, any keywords that you are ranking for outside the top 5 is something to focus on for quick traffic wins.
An On-Page audit with changes can get these keywords into the top 5 positions very quickly, sometimes overnight. If you combine this with some backlinks your site is going to land in the number 1 position.
The main things to note here is the search volume and current keyword ranking. You can see here for Rankers Paradise that we have the keyword "buy cheap backlink" ranked number 8 and it has a 590 monthly search volume.
To boost rankings for this search term I would go ahead and work the keyword into the ranked page content. Follow the guide below to know exactly how this is done.
2. Keyword Research
So you want to add some new content to your website but you have absolutely no idea where to start.
Before you write one word it is a good idea to do some keyword research first. As you write your content you can work the keyword into the text, this makes things a lot easier down the line.
To perform keyword research for free you can use the Ubersuggest tool. The free version gives you 3 keyword searches everyday, in most cases this is all you are going to need.
Enter a seed keyword, select the location, hit the search button. As you can see, I have chose to enter the focus keyword I am using for this post, which is "how to improve SEO".
When performing keyword research these metrics are important to note down:
Search volume
SEO Difficulty Score
Average number of backlinks the top 10 ranking sites have
Choosing a keyword with a low SEO difficulty score where the sites ranking in the top 10 search results have few backlinks makes getting your website there a lot easier.
If you have a new website really put some effort into keyword research, this will make or break your site. Choosing the right keywords is key to success.
You can scroll down the page to discover more keyword suggestions, this will allow you to find some keywords that have a low SEO competition score.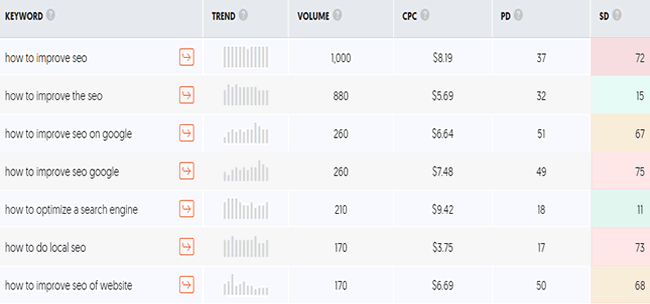 The sections that are highlighted in green means you have discover a keyword that has very low SEO competition. If you can find one of these keywords that has a decent monthly search volume then you are onto a winner.
This means you can rank in the top 5 search results quickly and you will get lots of traffic from that placement. To discover how much your keyword is worth to you follow the link.
3. Content Development
High quality relevant content is required to achieve a top ranking. Quality content will be well optimized from an SEO standpoint and of course will earn links.
Each page on your site will have a main target focus keyword. Variations on this keyword can be worked into your content to gain further traffic from one single piece of content.
An example of a main focus keyword would be:
Variations on this keyword that can be used within the same content would be:
how to improve SEO on Google
how to improve SEO Google
how to improve SEO of a website
how to improve the SEO
The secondary set of keywords will be related to the main focus keyword. As you write or optimize existing content these will be worked into the text and MetaData.
If you discover keywords that are related but not completely relevant to that existing page then you will need to write new content for them.
If you are writing new content you should follow this checklist:
Ensure the main focus keyword is in the H1 TAG.
Ensure the keyword is in one H2 to H6 TAG (you can bold font this).
Try and mention the main focus keyword within the first 200 words.
Drop the main focus keyword in the middle and at the end of the content.
Add the main focus keyword to one image ALT TAG.
Add the main focus keyword to the Title and Description TAGs (MetaData).
Ensure the main focus keyword is in the URL extension.
Work the long tail secondary keywords into the content. Just once is enough.
If you have everything completed on this checklist then it will improve your chances of ranking higher in the search engines.
To avoid keyword stuffing be sure to only mention the keyword once in the MetaData and only use it once in an image ALT TAG.
When you have finished writing your content you can use a free tool called Website Auditor to check you have completed all 8 steps correctly. See the on-page audit section below.
On-Page Audit
Go ahead and download the free on-page audit tool that is called Website Auditor by SEO Powersuite.
Fire up the software and enter your website URL to start the SEO analysis.
After you have dropped the URL into the tool click on the finish button. The tool will crawl your website and discover all your URLs.
To start the SEO content audit select "Content Audit" from the left-hand menu panel and enter your page URL and the keywords.
Remember earlier when we discovered the keywords that are ranking outside the top 5? You can drop them into the keywords section and discover how to optimize the page to push the rankings higher. If you are running a check on the content you have just written make sure you have published the page/post and enter the main focus keyword and the secondary variations. When you have done that hit the "Run audit" button.
The tool allows you to see how to improve SEO quickly with a few on-page changes. You can discover if you need to change your MetaData, add the keywords to the headings and within the body content, add the keyword to image ALT TAGs.
The tool will also give you a word count and give you an idea of how long your content needs to be based on the top-ranking websites for your selected keyword.
Scroll through the sections and follow the tips that are displayed in the right-hand panel to optimize your website for a higher ranking.
From experience, I make my keyword density around 0.8% for the main focus keyword. The secondary keywords can be placed into the body content 1 or 2 times.
Always make sure that your content is for the benefit of the user, write naturally, and do not throw keywords in there for the sake of it. The keyword must fit into the sentence and must make sense.
Remember that over time it is good to go back and repeat these steps, your content may start ranking for keywords you did not know about and you can boost them further by performing an on-page SEO audit.
4. Meta Data
Every page on your website will have what is known as Metadata, this is placed in the header section of your code and is the text that is displayed in the search engine results pages (SERPs).
It is very important to have your highest search volume main focus keyword in the MetaData. If it is not, go ahead and do it now. This one change is one way to improve SEO quickly.
Title Tag
The Title Tag is what is displayed at the top of your website in any browser window, it is also what is listed in the SERPs. This is the most important part of SEO for any webpage. Make sure your main focus keyword is in the page Title Tag.
The length of your title tag should be within the required limits (1-70 characters with spaces). This ensures text does not run off when displayed in the SERPs.
Description Tag
A search engine may use your description Tag in the search engine results pages, this is displayed underneath your title-Tag. Sometimes a search engine will take some wording from your body content to use as the page description in the SERPs.
Your meta description length should be within the required limits (1-320 characters with spaces). Make sure you use your main focus keyword in the page description tag.
Keyword Tag
This is where you list your page target keywords, these days it is ignored by the search engines. It does not do any harm to add them in there, use your main focus keyword and any secondary search terms you have optimized the page for.
Image Alt Tag
This is another place on your page to add your keyword. The Alt Tag is used to describe the image, you can put your keyword into one of these.
Internal Links
Go through your website and add internal links to other pages on your website using exact match keywords as the anchor text. The anchor text is the text you use within the link.
Do not ignore internal links, this allows the search engines to discover all the content on your site much easier, and if you use the main focus keyword as the anchor it tells the bot what your page is about and what it should be ranked for.
5. Earn Backlinks
First and foremost focus on creating high-quality content, this is without any doubt the best way to earn those all-important backlinks.
When your content is complete and fully optimized you can go ahead and share it around all the major high traffic social channels. This will get your content noticed by the right people and will earn you backlinks.
Another way to promote your content is to use free websites, some of these are called web 2.0 sites. When you drop a link to your website from these websites it is known as web 2.0 backlinks, these alone can help improve the SEO of your website.
If you have selected a keyword that has a low SEO competition score then you will need very few backlinks to get a number 1 ranking in the search engines.
Well-optimized content combined with quality backlinks will result in a top keyword ranking.
Be aware that the very best backlink that your website will ever get will be from a niche-related website, the link will be within the body content, this is known as a contextual link. If that niche-related site is aged and has lots of backlinks pointing to it then it will have a bigger impact on your rankings. Sometimes a few high-quality links like these are so much better than thousands of generated links. A natural backlink profile will have nofollow and dofollow backlinks, so do not shy away from nofollow backlinks.
Additional Resources
Starter Guide to SEO
Read through our introduction to Search Engine Optimization tackling everything from the very basics to advanced step-by-step guides.
Check My Google Ranking
A free guide to check your Google keyword rankings completely free. Learn how to check your current rankings.
Backlinks Checker
Learn how to use free tools to check the backlinks that point to your website and your competitor's website. This way you can get those links and steal their rankings.
SEO Strategy
An effective SEO strategy that I have used over and over again to get free traffic from the search engines.
How To Create Backlinks
A step-by-step guide on how to create backlinks to your website right now. You can get these links instantly and they are powerful at pushing keyword rankings.
How To Index Backlinks In Minutes Fast In Google
If Google does not know that your backlinks exist then they will not have an impact on your rankings. Follow the free guide on how to index your backlinks quickly.
SEO Checklist
Use our SEO checklist step by step to get a top keyword ranking. Discover how to have your pages crawled and indexed by Google bot.
After you have finished reading these additional resources you will be fully equipped and know exactly how to improve SEO for your website.
If you follow the guide right through from start to finish and get your new updated fully optimized content crawled by Google bot your rankings can change for the better overnight.