The key to success is a good foundation, knowing the basics of SEO can completely change your online presence.
The Rankers Paradise SEO basics guide will turn you from an amateur into a pro in less than 10 minutes from now.
If you are looking to get more traffic from the search engines like Google and Bing then you need to know the basics of SEO (search engine optimization).
Changing a few things on your website right now will make a huge difference to your ranking.
After you have completed reading our SEO basics guide you will understand how you can edit your website for better keyword rankings.
You will understand just how important SEO is and why it can be the life or death of your business online.
We will cover absolutely everything in this guide, giving you the knowledge to get your website huge traffic from the search engines.
What is the Meaning of Search Engine Optimization?
You are here because you know a little about SEO and want to know more. Search Engine Land go into much detail on the definition of SEO.
The quick meaning of SEO is:
Is a way of altering your website to improve your key phrase ranking in search engines. People discover content using Google and Bing using key phrases, which you can utilize to your advantage to gain more traffic.
It's not just a good strategy to get more traffic, you need to think about how to drive this traffic within your site to get more sales/leads.
Why SEO is so important?
Understanding SEO will help your website become more detectable in the search engines, this will lead to more traffic and sales.
It is important because it can completely change your business financially into a money-making powerhouse literally overnight.
I say that because a few on-page tweaks can improve website rankings quickly, sometimes on the same day they are made.
Part of the process in SEO is known as keyword research, this will help you understand what key phrases you need to target to get huge traffic to your website.
Some keywords get very few monthly searches, some get huge monthly search volumes. Knowing which keywords to target is key.
If you are running an ecommerce store you will be best suited to go after buyer intent search terms, these convert very highly and can completely change your online business.
People hop online and search for anything they require, if they put the word "buy" or "purchase" in front of a key phrase they are very highly likely to convert into a sale.
You can also build sites to answer questions and solve problems, you can convert the traffic and make money by joining affiliate programs. An example of this would be someone looking for the "best" of something or a "review" on a product.
Searchers trust the search engine results pages, according to Search Engine Watch the top ranking site will get 33% of all traffic.
What are the Top 5 Search Engines?
According to rapidapi.com, Google is the most popular search engine covering more than 90% of the world's searches.
With that in mind, many people that work in SEO focus on Google SEO only and just track search rankings on that one search engine.
This means you should read everything you can about how the Google algorithm works to stay ahead of the SEO game.
The top 5 most used search engines are:
Google
Bing
Baidu
Yahoo
Yandex
Whatever search engine you choose to focus on you should be aware that the results pages (SERPs) are always changing with sites jumping up and down the rankings daily.
A Google algorithm update has in the past involved indexing bugs, featured snippet changes, BERT natural language processing, EAT search quality, and much more.
You should be aware that some SEO tactics can get your website penalized, this could mean that your website will drop in rankings or at worst drop out of the SERPs altogether.
This makes it even more important to know what really does get results, and more importantly to know what does not work. So, how does Google algorithm work? How does Google determine which websites are listed top for certain search phrases? How can you get this targeted traffic from the search engines?
According to Brian Dean at backlinko.com Google uses over 200 ranking factors to determine where the sites are featured in the search results pages.
However, you can break it down into two sections:
On-Site Factors
Off-Site Factors
You should understand that Google requires a page/post to be highly relevant to the search term, which means the search term must feature on-site somewhere, either in the META data or in the content or both.
Google spiders will crawl your website to analyze your content, it will determine if your page is relevant to the search phrase.
As the Google spider crawls the web it will discover off-site factors, these are referred to as backlinks. A backlink to your site "a link from another website to yours" counts as a vote of confidence and in most cases will help you rank higher.
To make this as clear as possible, if your on-site factors are optimized and you have backlinks from niche related authority sites then you will rank top for a particular keyword.
However, as you would expect, there are other things to consider. These can also be put down to On-Site factors:
How do people interact with your site? Do they click through your website and purchase? Or do they return to Google? If a visitor returns to Google after clicking on your site from the SERPs it will tell them that your content is probably not relevant to the search term. You did not solve their problem or answer their question. A person may also bounce back to the SERPs if your website loads really slowly, there is a tool to test your website load speed.
A website needs to be mobile-friendly, there is an online tool to check if your website is mobile-friendly.
You can breathe a sigh of relief that SEO does not have to be complex, keep it simple and get the two basic On-Site and Off-Site factors in place and your website will perform really well in the SERPs.
I am going to give you an easy to follow step-by-step guide to ensure you get these two things done the right way.
With just an hour or so On-Site work you can completely change your rankings, sometimes as fast as a few hours from now.
If you want to go more in depth on how the Google algorithm works take a look at the following resources:
Let's not forget that you should know the SEO basics before you delve any further. Before you do anything in SEO, you should know how to find what keywords you currently rank for and how to conduct keyword research.
Knowing how to do keyword research will save you a hell of a lot of time down the line. Go for keywords that you can get fast results with, this will mean the top-ranked sites have few backlinks and that their content is thin or even off-topic.
2. Discover Your Current Keyword Rankings and New Target Keywords
The very first thing you should do in any SEO strategy is to discover what keywords if any your website is currently ranking for.
Your website might already be ranking for hundreds of keyword that you do not even know about, they may be ranking on Google page 2, and with a few On-Site optimization tweaks can go to page 1 and even number 1.
Do not worry, there is a completely free tool that you can use to discover if your website is already ranking for keywords. Just to be clear, a keyword is a phrase that someone has searched for in a search engine like Google.
To discover the keywords your website is ranking for completely free you can use the Ubersuggest tool on the Neil Patel website.
Simply drop your website URL into the tool and select your location and hit the search button.
You will then see a list of all the keywords your website is ranking for. You can download the data to use later, this is required when you start your Off-Site SEO work.
Do not worry if you are not ranking for any keywords, you can use the same tool to discover some new keywords that you can optimize your pages/posts for.
Instead of putting your website URL into the search bar simply pop in a search term that is related to your website, select your location and hit the search button.
You will uncover a whole load of new SEO keyword targets. Remember to export the list for use later during On-Site optimization and for Off-Site work.
What factors should you take into consideration when choosing a keyword to target?
Trends: Is the keyword a popular search term all year round? Or is it a seasonal search term? The tool shows you the keyword trends over the last 12 months.
Volume: Be sure to take note of how often the keyword is searched for in any month. Remember to keep in mind that the top-ranking site will get 33% of all traffic and not 100% like many amateurs will believe. Of course the higher the search volume the better chance you will have at getting more traffic to your site if you rank in the lower spots of the top 10 search results.
SEO Difficulty: Many keyword research tools will give you an SEO difficulty score, the higher the score the harder it will be for you to rank your website top of the SERPs. The SEO difficulty is calculated using the algorithm factors listed above, like content length and the number of backlinks a site has attained.
Association: A search term must be associated with your audience. If you are selling pies from your store in New York and want to get more traffic through your brick and mortar store by using your website you will not want to rank for pies for sale in Denver. This would result in zero conversions in leads from your website and would be a complete waste of time and effort. With that in mind, you would want to rank for the search term pies for sale in New York Clifton. This would bring highly targeted traffic to your website, the visitor would learn about your bricks and mortar store and would lead to increased sales.
You will already know what your customers are searching for, the Ubersuggest tool will help you discover this.
To widen your keyword research even further try putting in some more search terms into the tool, to get more ideas think about:
What are your customers/potential visitors looking for? Are they looking for goods, reviews, best-of lists, etc?
Does your product solve a problem? How can you solve their problems?
Who are your competitors? You can put your competitor's URLs into the Ubersuggest tool to get more keyword ideas.
When you have answered these questions you will have a list of words and URLs that you can use in the Ubersuggest tool. Be sure to take note of all the most important metrics, these are the search volume and the SEO competition score.
You can even run the keywords through other free keyword research tools like SpyFu and MOZ Keyword Explorer.
Using two or three different keyword research tools will help you understand the real SEO competition score, some tools will differ in comparison. If you can uncover keywords that every tool shows a low SEO competition score then you are onto a good thing.
The main thing at the start for quick wins is to uncover the keywords you already have rankings for, if you don't have any then you must uncover low SEO competition keywords with a decent monthly search volume to them.
Another really useful addition to the Ubersuggest tool is the Traffic Analyzer add on. You can enter a competitors URL and discover which pages/posts drive the most traffic to their website, you will know which are the sites money making keywords.
You will discover your competitors top traffic pages, the keywords that are driving the traffic and the number of backlinks that each page has. This core data is super important, pages with lots of traffic and few backlinks are good opportunities to exploit.
This will expand your keyword base, you will also discover new ideas for your business on where you can expand and take on new products/services related to what you already do.
You will also want to put your own website into the traffic analyzer tool, you will have some pages that already generate traffic, is there anything you can improve on right now?
You will also want to set up a Google Search Console account. You can add your website and it will also reveal some keyword ranking data to you. The tool will also help you understand if you have any technical SEO issues with your website.
When you have logged in you can look at the "Top Queries" tab under the "Search Queries" section.
You can go ahead and drop some of these keywords into some of the other keyword research tools, this will help you build a huge list of potential target keywords.
Now that you have your list, you need to drill down and select the keywords that are easier to rank for or rank higher for. These keywords will have a low SEO competition score and a high search volume.
You can discover how much money your keyword is worth to your business, I have done a post on this. This will help you understand exactly how much money you can make from a top Google ranking.
Don't make the mistake of leaving the tools to do the SEO competition analysis alone, you should perform your own manual check to make sure of things.
Enter your target keyword into Google at take a look at the top-ranking sites, are they high authority sites like Wikipedia? Do the sites have really good in-depth content? Can you do something unique and better? These need to be at the forefront of your mind as you perform the manual SEO competition check.
Are the top-ranking sites completely relevant to the search term? Is there an opportunity to answer the question/problem in a better way?
Do the top ranking sites have a lot of backlinks across the domain and to the ranking post/page? You can use the free tool backlinkshitter.com to check the number of backlinks that point to an entire domain or individual post/page.
For more information on how to determine your chances of ranking in Google take a look at the Tim Soulo Ahrefs guide.
We have revealed the best free tools that give you a keyword competition score (which is all you need), however there are many quality paid tools that you can try too, many offer a free trial with them:
For more tools and ways to do a manual check on how to check the SEO competition of a keyword take a look at Akshay Hallur post on How to Accurately Determine Keyword Competition in SEO.
If you want to go even further on the subject of keyword research there is some amazing in depth content out there:
3. On-Site Optimization
The next step in the process is to start adding those keywords to the META data and body content on your website. When this is done, have Google recrawl your website using Google console, the ranking changes can be seen in hours.
Each of the pages on your site will target one broad short tail keyword that will have a high search volume, the page will probably also cover many other long tail variations of that main keyword, these will have a lower search volume and will also in most cases have a lower SEO competition score too.
In my previous blog post on how to write content that will rank top, I show you how to optimize your web pages just like the top-ranking sites do. I also show you an easy way to analyze the top ranking sites quickly to get your posts/pages on par with them.
The image below shows you how you can optimize your pages perfectly for a top ranking for absolutely any keyword: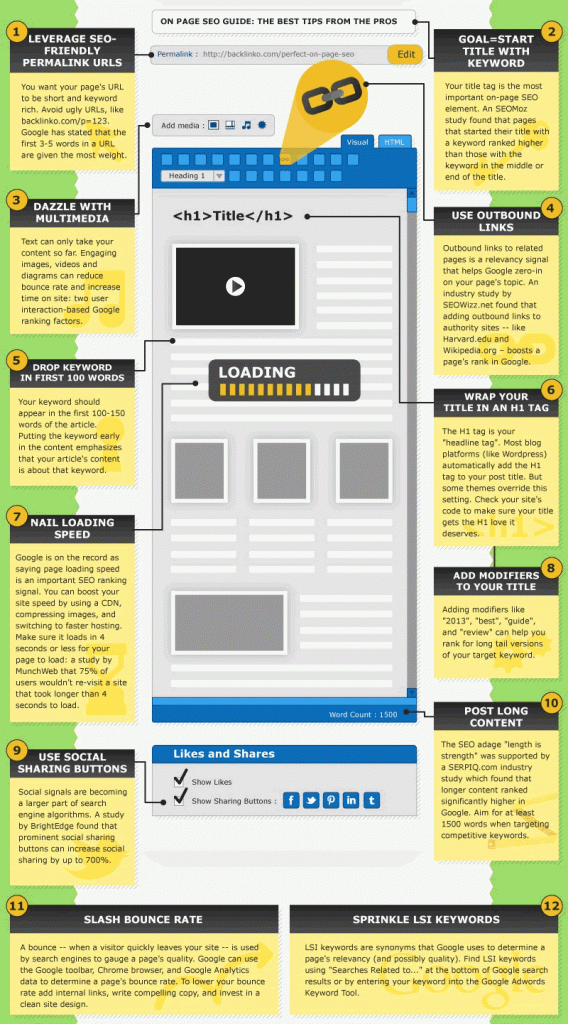 I am going to run through some of the main things you need to take care of when performing On-Site keyword optimization:
META Data – Title and Descripton Tags
What is the META data? Metadata will describe your content, therefore having your keywords in the Title and Description TAGs can have a big impact on rankings.
The TITLE TAG is the main heading to your page, this will also correspond over to your first heading on your webpage, which is also referred to as the H1 TAG.
The TITLE TAG can be seen in the browser tab and will also show in the search engine results pages:
In most cases Google will display the first 50–60 characters of a title tag and the META description should be between 120 – 158 characters, up to 920 pixels. You can read more about the META data here.
It is good practice to have your keyword in the title and description TAGs, for a guide take a look at what the top ranking sites are doing. Keep in mind when you write your META data that it is what the searcher sees in the SERPs, you want to make them click to your website over the others listed. How do you do this? You can use high emotion words that will provoke a person to click, here is a useful list.
You should be aware that your META data description may not always show in the SERPs, sometimes Google will take some content from the body of your web page to display as the description tag.
Webpage Content
The content in the body tag on your page is very important, the content must include your keywords and it must add something valuable and unique to what is already on offer in the SERPs.
Here are some points that you must keep in mind when you write or edit your content:
Unique and Fresh: When it comes to word count many people say that really long content will rank better, but that is not the case for every niche. A big mistake would be to use duplicate content, you need to add something unique and fresh into the mix. Take a look at your site, compare your content with the top-ranking site content for your target search terms. Does your content offer something different? Is your content unique? If not, you seriously need to fix this. You must remove or edit these pages to add value.
User Interaction: It is well known that how the users behave on your website will influence your rankings. You can see the top 10 user engagement metrics to keep in mind here. The time spent on your site matters, the number of pages they view, and if they leave your site back to SERPS matters. Having long content will keep your visitors on your website longer, the content must solve the problem they are searching for.
Images: You can add your keywords to the image ALT TAG within your content. You can use the keyword in the image file name also, this will also help you bring traffic to your website through the Google image search facility. The ALT attribute is there to help users know what the image is about if it does not show on the page. You can also take this opportunity to add your keyword into the ALT TAG, however, you should only do this once otherwise you will run the risk of over-optimization and risk a ranking penalty.
Webpage URL
Create a short URL that has your main focus keyword in there, shorter URLs are neater and are much easier and more likely for people to share.
Only change your URLs if the pages are not already ranking, if a page is ranking then you should leave the URL alone. Also, do not add a date into your URL, this will impact on your rankings during time. Go for the long game, you want your content to be around and ranking for many years to come.
For further information take a look at:
Schema and Markup
If you are running an online store the schema mark up can be very important to improve your click through rates from the search engine results pages.
With the correct schema mark up in place you can have the search engines display your products rating scores and the number of reviews, the product or service price and whether or not it is currently in stock. This is shown directly underneath the description of your webpage in the SERPs.
Although, in some cases this could hurt your click through rates too, for example if a product is out of stock then they will go to another store instead of yours. But, on the other hand it will help your bounce rates, if it's out of stock then they will return to the SERPs after visiting your website.
To learn more about Schema mark up take a look at the following useful resources below:
4. Internal Links and Site Architecture
The layout of your website and how the pages link up including your menu navigation is known as the site architecture. You must have your most important pages on the main menu, making it easy for the search engine spiders to crawl them and also the web site visitors to find them.
The way you interlink your pages will also send out a signal to the search engine spiders, giving them information on what you define the page/post to be about by way of what text you use in the link (also known as anchor text).
A link, being from another website or from within your website is a vote of confidence for that linked to web page. The more links you get the more ranking votes you have, and in most cases the higher you will rank.
The anchor text informs the search engine bots what your pages are about, but you must not use too many exact match anchors. This means if your keyword is best baby seat then make sure you do not use that exact phrase too many times on the anchor text. The perfect anchor text ratio should be something natural, you can discover what the top ranking sites are using to compare with yours.
Here are some great resources you can use to understand anchor text ratios a little more:
I am going to run through an example to show you how to set up the perfect site architecture for a better ranking. Let's say that we have a car cleaning products website:
We write and publish a great in depth piece on the best car cleaning products on the market including real life reviews and instructions on how to use them. Needless to say that this content is long and 100% unique and very different to anything else that is in the SERPS right now. After a few weeks it goes ahead and gets a lot of backlinks.
This amazing piece of content is on the main site, the rest of the site is just product pages with thin content and have no links to them from external sources.
The trick is now to link to the product sales pages from the ranking in depth piece of content, this passes some of the juice from the external links to those pages, they will start to rank too. And make sure your most important pages are linked to from your high traffic pages, this will almost certainly improve your rankings and increase conversions.
If you have a massive website this can become an extremely time consuming task, the most important things to keep in mind when doing this are:
Remember the keyword research stage earlier? This will have uncovered your ranked pages and traffic pages, link these to your sales and sign up pages.
Ensure all your main keyword pages are on your main navigation menu and if they are related inter link them also.
Your most important pages should never be more than one click away from your homepage or any of your other main traffic pages. Keep it simple, list your main traffic pages and have them linked up and featured on the main menu. It is also a good idea to have these pages on the footer menu too.
Here are some more useful resources regarding website architecture and internal linking:
5. Content Promotion and Backlinks
It is said by many SEO experts that the number one ranking factor to determine whether you rank top or not is down to the amount of backlinks that a website/page has.
Having more niche related backlinks to your website than any of your competitors is highly important for getting more traffic from the search results pages.
It doesn't matter how much time and effort you spend on On-Site optimization if you do not have backlinks, it is most likely you will not rank higher than your competition.
There are many well known ways to get backlinks to your website, however some of them can and will get your site penalized. Following the Google guidelines, your site should earn the backlinks, you should not create them yourself or even buy backlinks cheap.
You should also know that building links yourself is a big risk, and detection can have your rankings drop over night.
A safe approach to SEO is to first and foremost create good quality shareable content, then go ahead and share and promote across all the social media platforms. This is 100% safe and is expected, if your content is good other webmasters will link to you naturally and reach out to you.
This does take time, joining niche related groups on Facebook is a great place to start to get the ball rolling. If you are a one person team then you must stick with one platform and utilize your time and efforts carefully.
Here are some more ways to get your content noticed:
#1 Finding The Sites That Link To Your Competitors
Taking a look at the websites that link to the top ranking sites for your main keywords will help you understand your backlink audience. It's important to know who will link to your website and why.
You can enter your competitors URL's into the backlinkshitter.com tool:
As you can see, you will discover the kind of websites that link to your competitors and even what text they have used in the anchors. This information can be absolutely invaluable in ranking your website top. Another free backlink checker tool can be used over at the monitorbacklinks.com website.
Start to think about how your competitors got those backlinks, view their content and make sure you have something even better that is even more shareable.
You can contact the webmasters of the sites and share your content with them, in many cases they will drop a link to your page/post without even asking, if the content is top quality.
You can re-write and add to top ranking content, make it better, make it different and more in depth and then publish. Take your time to research and reach out to the experts in your niche, publish what you find, publish something unique and it will have worth and will be ultra shareable.
If you feature another website within your content make sure they know about it, let them know with a nice email. The chances are they will repay the favor later down the line. Do not be afraid to get your content and website out there.
#2 Stay Keyword Focused
Let's not forget the hard work you put in at the very start of your SEO strategy. Make sure you reinforce what your content is about when you share it on social media and when you contact these webmasters.
For more information on how to promote your content to get backlinks take a look at these resources:
6. Detect Your SEO Mistakes
This is not really the basics of SEO anymore, this is getting into the more advanced level and that is something you should consider if you want more traffic to your website from the search engines.
Everything listed above including the keyword research and On-Site optimization is easy and can be implemented quickly, often the technical side of SEO will require some coding knowledge.
You can take care of small site technical issues using free tools like WebSite Auditor by SEO PowerSuite.
You simply enter a website URL for it to check over and let the software do it's thing. The software will run a full technical analysis of your website.
You will discover valuable information like broken links, resources restricted from indexing, empty alt tags, and much more.
Load Times
A fast loading website is something that will help you rank higher, slow loading sites are not user friendly and will increase bounce rates significantly. You can check your website load speed using the free gtmetrix.com tool.
You can address the listed issues to improve load speeds, if you are using WordPress there are many plugins you can use to make life easier.
Here are some useful resources on the matter:
Mobile Friendly Test
Depending on the niche you work in, this could be more important than anything else on this page. Right now mobile search is out performing desktop searches in many niche areas.
You can use the Google tool to test your website for mobile friendliness, the WebSite Auditor tool is also used for this purpose, as shown in the image below.
Redirects Indexing and Crawlability
Again, these technical issues are discovered using the free WebSite Auditor tool. You may see 4xx errors, which means users see a 4xx error page if they follow a broken link on your website.
Duplicate URLS can be handled with 301 redirects, however this might not be possible, then you can use a canonical tag to determine which page should have the priority when ranking in the SERPs.
Certain pages like error pages should be blocked from being indexed, if this is not done it will be marked as thin content and may get your website penalized in the rankings in some way.
If you do not set up redirects the right way then you could have some serious ranking issues. Moving content to a new URL on a permanent basis should be done with a 301 redirect. A 302 redirect should be done on a temporary basis and will not pass any rank juice. Search engines may continue to index the old URL and put the new URL down as duplicate content. Or, even worse, will divide the backlinks between the URLs, therefore, pushing rankings down even further.
Changing URLs can also create broken links and hurt the pass of link juice through your internal linking set up. Try not to move content around your site if it all possible.
Duplicate Content
Copied or repeated content from other websites or across your domain is a big no no. Why would the search engines need to list the same content in their results pages over and over again? They don't and they won't, so add something new and unique into the mix and you are highly likely to rank in the top 10, with backlinks you will rank top.
You can use Google Search Console to find duplicate content on your website. You can also use the free tool from Screaming Frog to detect duplicate content on your website.
XML Sitemaps and Robots.txt Files
You can submit a sitemap of your website through Google Console. This will help Google crawl and index every page on your website. If you are using WordPress then a free SEO plugin like Yoast will automatically generate a sitemap for you.
You can use the robots.txt file to block the search engines from indexing certain pages on your website, again if you are running WordPress then this will be created on autopilot for you. There are certain pages you do not want to be indexed in the SERPs, like customer detail pages, that are completely private.
You should also check the robots.txt file to make sure it is not blocking the search engines from crawling pages that you want indexing.
Other resources you will find useful when tackling technical SEO issues:
7. Measure Your SEO Efforts
So how do you know if everything you have done in your SEO efforts is working? Well, as your site starts to climb the SERPs the traffic will not increase a lot until it hits the first page, so at first, you will not see a huge jump in sales. But do not get disappointed, because you can track your keyword rankings to know that what you are doing is getting positive results.
Check Keyword Rankings
There is a completely free tool that you can use to track your keyword rankings, it allows you to choose the local search engine too.
Go to serpsurf.com and enter your website URL, Google region, and your keywords to track.
You will then see what keywords are ranking and what URLs are ranking. You can also view the top ten ranked sites.
Website Visitors
Of course in time you will get more website visitors as a result of your SEO efforts.
You can use free tools like a chat agent to track your visitors, a good one for WordPress is tawk.to. Using a chat agent is a tip to track daily traffic, tawk.to shows you where the traffic is coming from and even gives you information on how long they have been on your site and what pages they view. Increased traffic is a big indicator that your SEO campaigns are really paying off.
As you would expect, as your traffic count goes up then your leads and sales will increase too. There are many ways to optimize your pages to make the most out of your traffic and drive leads and sales. To learn how to optimize for SEO and more sales follow the link.
8. Other Aspects Of SEO
There are some other circumstances in SEO that need a different tactic. Some of these instances will include:
Different Languages: In some countries, SEO is a lot less competitive, some languages are in a market that is a lot less dense than the USA, UK, and Australia.
Local Keywords: It's also a different approach for super local keywords. Getting local business citations in place and keeping this information constant will have a big impact on keyword rankings.
App Ranking: You may have an app for your service or product to enhance sales, ranking these on the Google Play store for particular keywords can be important for traffic too.
Video Ranking: Having a YouTube channel can bring some serious traffic to your website. Ranking your videos on YouTube is very easy with correct keyword placement in the video title, description, and tags. Results can be seen fast and is a great way to drive traffic to a new website.
What's Next
Now you have all the basics implemented what do you do next?
SEO is a constant on going process, new keywords will come into play all the time.
New errors will arise day by day, the best thing you can do is to run an audit on your site using the free WebSite Auditor tool at least once a month.
If you are a one man team, select your main focus keywords very carefully and go for the ones that will give you best return on your time investment.
If you need help then you can go ahead and hire an SEO expert or agency to take care of particular tasks discussed here. Set yourself a plan and stick to it, check your results, and adapt your site as you go. If you get the basics correct you will have a good foundation to get big traffic and a huge success for your website.