The very first task in any SEO project is to find or reveal your focus keywords. I will show you how to find SEO keywords for a website using the best free keywords for SEO tool.
After you have finished reading this you will know what SEO keywords are, how to conduct keyword research for free, and how to uncover ranked keywords for free.
In basic terms, keywords meaning are the words search engine users type into the search bar to search for content.
If you place these words (keywords) within your website pages and blog posts it makes it possible for those searchers to discover your website in the search engines. Keywords and SEO go hand in hand.
Therefore it is very important to know your target keywords for any webpage before you go ahead and write the content for it. This will allow your website to be optimized for the search engines and allow it to be discovered when surfers search for those terms.
This makes keyword research one of the most important aspects of SEO. Get this wrong and your online business will be worth nothing, get it right and you can make big money. Using the best keyword research tool makes it a whole lot easier.
The key to success is to target the correct search terms (keywords) for your website, I will show you how to do this. You can calculate how much a keyword is worth based on estimated traffic and conversion rates, this is very important.
Knowing how much a keyword is worth to your business helps you understand the types of return on investment you will receive from a top ranking.
The good news is that there are free tools that you can use to conduct keyword research, which I will reveal below.
If you know how to place these keywords within your content it will enable your website to rank higher than your competitors, this is known as on-page SEO.
In most cases, very good on-page SEO combined with backlinks will result in a top search engine ranking. It is important to understand all the SEO basics before you start keyword research.
The very first thing that you do in any SEO project is to conduct keyword research. Keywords are the only factor in SEO that allows you to monitor your success.
Because keywords are so important it is very much well worth investing some time into knowing the best target search phrases for your website.
Selecting the correct keywords for your website is quite simple if you know a little about the process. I am going to show you how you can discover what your potential visitors are searching for and how you can rank in Google, Bing and Yandex for them.
Uncover Your SEO Keywords Step by Step
There are two main parts to conducting keyword research for SEO:
Find search phrases (keywords) before you write content for your website.
Find search phrases (keywords) that an existing website is already ranking for.
In most cases, the wise thing to do is to conduct keyword research before you start writing content for a new website.
However, you may already have a website with content and have just started to read about SEO and how it can help improve your online prescence. In this case you can uncover any keywords you are currently ranking for and go ahead and optimize pages for other keywords to get higher placement in the SERPs (search engine results pages).
Many SEO tools, even the free ones, help you uncover keywords and reveal a few important aspects:
Monthly Search Volume
SEO Competitive Score
Variations On The Keyword (long tail versions)
On that note, I should mention that you get what is know as long tail and short tail keywords.
A short tail keyword will be a search phrase of 2 to 3 words, a long tail keyword is a search phrase of 4 plus words.
Here is an SEO keywords example:
Say my website is about electric shavers. A short tail keyword example for the website would be "mens shavers". A long tail keyword example would be "best electric shaver for men".
Because you are always adding content to your website and more and more people are typing in different search phrases everyday to find things keyword research should be an ongoing task.
As more websites come into play the search results pages are constantly changing as is the competition, you need to always keep an eye on this. Do not worry, there are free tools that you can use to do this.
Targeting the right keywords for your business is very important, some keywords bring in buyer traffic, which of course is very important for ecommerce websites.
It is good to keep in mind that you can use tools to uncover your competitors keywords, you can actually discover which keywords bring in the most traffic to their website. You will uncover which search phrases are making their website tick.
If you know how to write content around these keywords then you can outrank your competitors and take their traffic and sales. It's important to know what your customers are searching for and to write quality content around this, to solve their problems and to add value to what is already on offer.
Best Free SEO Research Tool For Keywords
Today I am going to show you how to use the best free keyword tool for SEO analysis, I have also done a post on how to find low competition keywords with high traffic using Long Tail Pro, which is one of the best-paid keyword research tools.
How To Find Good Keywords For SEO?
Follow the entire process listed below to find good keywords for SEO. After that, you can go ahead and optimize/write your content for them.
Discover New Keywords
To uncover keywords for free you can use the Ubersuggest tool over at the Neil Patel website. To get the most out of the tool you will need to sign in, do not worry, you do not need to pay for anything.
Click on the "Sign in" button and create a new account or sign in using an existing Google account.
Now that you have logged in go ahead and select the "Keyword Overview" tab on the left hand menu panel.
Enter a short tail keyword (remember the example I mentioned earlier), select your location and then hit the "Search" button.
Scroll down the page to discover many keyword ideas for your website.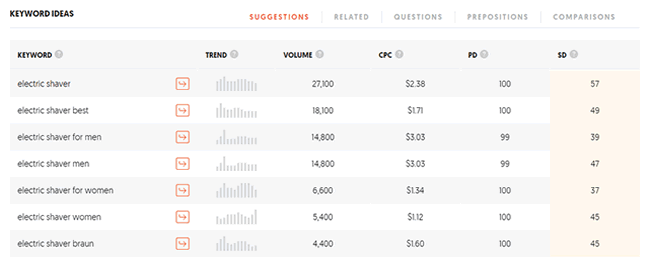 You will notice that you have tabs to discover other variations on the main focus keywords. You will see related terms and questions, which are all useful to help you develop your website content.
Take note of the trends (how often and when the search phrase is used over the year), the search volume, and the SD (SEO difficulty score).
Scroll down the page to discover content ideas based on your focus keywords. You will discover existing content that is bringing traffic to the top ranking websites. You can use these ideas to write content for your own website.
Discover Existing Keywords
Now you know how to find new keywords for your website and new content ideas, it's always good to know if your website is already ranking for some keywords.
If your website is already ranking, you can uncover those keywords using the same tool and get to work optimizing those already ranked pages to get a higher ranking and more traffic from the SERPs.
To get started go back to the "Keyword Overview" tab on the Ubersuggest tool.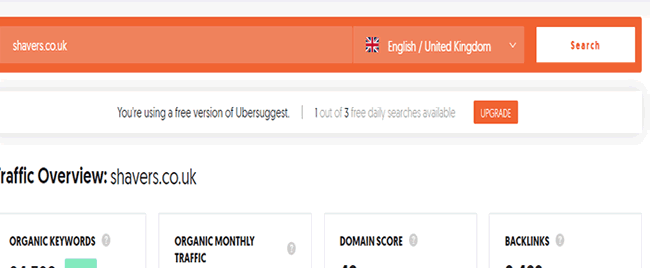 Now enter your website URL into the search box and hit the "Search" button.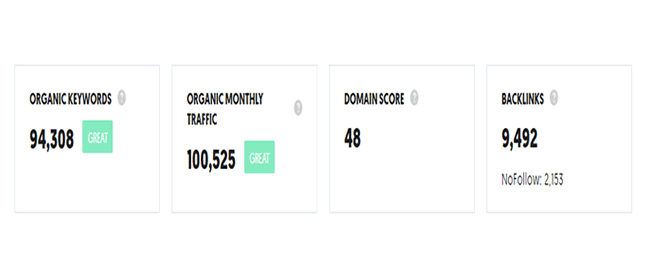 You will discover how many organic keywords your website is ranking for, the traffic you are receiving from those keyword rankings, your domain score and the number of backlinks your website has.
You can perform the same search using your competitors URL, this way you can uncover their most profitable keywords and the content that is getting them all that traffic.
Scroll down the page to discover a full list of all the keywords that your website or any website is ranking for.
You will also discover your keyword ranking on Google for each keyword together with the monthly search volume and the estimated number of visits.
The tool also throws up your top SEO pages revealing the pages on the website that receives the most traffic from the search engines. You can also discover the number of backlinks the pages have and the social engagement on Facebook and Pinterest.
How To Optimize Your Website For SEO Keywords
Now that you have found the keywords that your website is currently ranking for and the best keywords that will drive traffic to your website it is time to work them into your content.
It is actually possible to get more traffic from the search engines by working these short tail and long tail keywords into your web pages. You must be careful not to overstuff keywords into your content, this is know as overoptimization and can get your website penalized.
To ensure you work to the best SEO practices you should focus your content around one main focus keyword and then work in long-tail variations as you go. Your keyword density should not be over 1%, I know from experience that 0.7% brings great results.
You will be looking to get your main focus keyword into your Meta Data (Title and Description Tags), the body content (including image Alt Tags), and the headings. Yes, it really is that simple.
It is not possible to cram lots of main keywords into one Title and Description Tag. This means that you need to write other posts/pages for other short tail keywords.
However, you can put one or two main focus short tail keywords into the Meta Data. Then you can put long tail variations of the keywords into your content, the page will also rank for those long tail variations with them in the Meta Data as the SEO competition will be lower.
For this reason it is very important to group your keywords up into different sections to be used on different pages on your website. You will have one or two short tail keyword groups with many long-tail variations of those keywords. Here are a few examples to be clear:
Keyword Grouping Example 1
Main Focus Keyword:
best electric shaver
Long Tail Variations:
best electric shaver for men, best electric shaver for women, philips electric shaver, braun electric shaver
Keyword Grouping Example 2
Main Focus Keyword:
best epilator
Long Tail Variations:
best epilator reviews, best epilator for bikini area, best epilator for brazilian
Of course your keyword lists will be much longer than these, this is just to give you some idea about what I mean by keyword grouping.
By breaking up the keywords into groups helps you manage your on-page optimization. You can understand right away which keywords will be featured in your Meta Data and which ones will be body content placed only.
If you are looking to optimize a web page for the main keyword "best epilator" then you would do the following:
Put the keyword in the Meta Data (The Title and Description Tag)
Use the keyword within the first 100 words of content
Ensure the keyword features in the Titles (H1 and H2 Tags)
Try to get the keyword into the URL extension
Put the keyword into 1 or 2 image Alt Tags.
Use the keyword as anchor text linking back to the page from another page on your website (internal links)
The key is to write naturally and not to worry too much about keyword density. Make sure you do not overstuff keywords into headings and image Alt Tags and you will be good.
Remember that you are writing content for people, to solve their problems. You are not writing to impress the search spiders from Google.
Make sure that your Meta Data really delivers what your webpage is about, if you mislead people then your page will get a high bounce rate and will lead to decreased rankings.
By placing the keywords strategically on page you will help the search engines understand what your page is about. These steps are the very basics in SEO and should be taken so that you can build on that good foundation to ranking success.
Using Keywords For Content Ideas
It is quite possible that you already have lots of content on your website already and you just need to optimize it for a target keyword.
If not, it is good practice to conduct keyword research prior to writing your content. This way you can optimize the webpage as you go, saving you time.
You will need to create a keyword list with the short tail high search volume keywords at the top, and the long tail variations at the bottom. You can use this list to formulate the layout for your content. In many cases you will have an introduction, the main body, then finish with some frequently asked questions or even a resources section. Remember that people search questions and they have search volume too.
As you build up the content on your site with each page the focus of one main short tail keyword you will want to begin to link them up, which is known as website architecture, or SEO architecture. Using the short-tail keywords as anchor text on the internal links helps the search engine spiders know what your pages are about.
As you move further into your website you will have pages that target more long tail search terms. In the best situation your homepage will be focused around a short tail keyword, moving through the site to blog posts and reviews targeting those long tail variations.
Frequently Asked Questions About SEO Keywords
You probably still have some more questions about SEO keywords, read on to discover more.
What Are SEO Keywords?
Keywords are words that describe what your content is about, they are also known as search phrases, which is what people type into the search engines to discover content. In SEO they are very important, knowing your main focus keywords (AKA primary keywords) will help you get more traffic from the big search engines like Google and Bing.
As the owner of a website you need to be aware of the keywords that people are searching for to find products and services in your niche. This way you can optimize your webpages for them and rank higher in the results pages.
Why Are Keywords Important In SEO?
Keywords are important because they give you the opportunity to get more traffic to your website through SEO. You can bring people to your webpages that are looking for your products and services through clever keyword placement.
The keywords that you choose to target will be the success or fail of your website. Some keywords bring in lots of traffic and have little competition, finding these will be very important to the success of your website.
The keywords also determine the type of web traffic that you get, some searchers are just looking for information while others are looking to purchase something, these are known as buyer intent search terms.
To ensure that you rank for those keywords you need to try to understand the intent of your visitor, you need to think about their mindset and what they are looking for when they type in that search term into Google.
What Are Long-Tail Keywords?
A long tail keyword will have 4 or more words in them. An example of a long-tail keyword would be "where to buy coffee beans near me". You should be aware that these keywords generally have a lower search volume, but are also less competitive from an SEO standpoint. Which means you are more likely to rank top of Google search for the keyword with just quality content alone, without the need for backlinks.
The other great positive aspect to long tail keywords is the fact that they are highly targeted, which can bring you some serious buyer traffic. For example, someone could search for "buy premium cat food online", which means the customer is highly likely to purchase when they land on your site. That's a good alternative to the short tail keyword "cat food" which will have a much higher search volume but also be a lot more competitive.
Choosing to target long tail keywords in the short term is an easy way for a brand new site to start getting some traffic and sales quickly.
Long tail keyword focused content can rank on the first page of Google SERPs just a few days after being published. Short tail high competition keywords can take anywhere between 3 and 18 months to hit the first page.
How Do I Find SEO Keywords?
You can find SEO keywords using free tools. You can Ubersuggest as shown earlier, or you can use MOZ Keyword Explorer. You enter a seed keyword or URL and the free tool will discover all related search terms and their metrics. Take note of the monthly search volume and the SEO competition score. Your aim is to discover keywords with a decent search volume and a low SEO competition score.
Where Can I Get SEO Keywords For Free?
You can discover keywords for free at the Neil Patel website using the Ubersuggest tool. You can also use MOZ Keywords Explorer and the keyword research tool at SpyFu. There are many premium options available that offer a free trail, these include Keyword Revealer, KWFinder, Long Tail Pro, and SEMScoop.
How Do I Find My Popular Keywords?
If you already have a website and want to discover the popular keywords that it is already ranking for you simply enter your website URL into the Ubersuggest tool. You will receive a free domain overview including all the keywords that your website is ranking for and the most popular traffic pages on your website. You can even perform this search on your competitors websites to discover their keywords too and take advantage of this on your website.
How Do I Find My Niche Keywords?
To discover niche keywords you simply need to enter a niche seed keyword into one of the free keyword research tools. Enter the search term into either SpyFu, Ubersuggest, or MOZ Keyword Explorer.
How Do I Find Local Keywords?
You can find local keywords using the same process as general keywords. Enter a seed keyword + your location into any of the free keyword research tools, we recommend using Ubersuggest. Make sure that you select the location from drop down menu located at the side of the search button.
How Do I Check Traffic For Keywords?
Enter your keyword into the Ubersuggest keyword research tool and it will reveal the search volume for that keyword. Keep in mind that the top ranking site will get around 33% of that entire search volume. So even if you rank top, you will not get the full search volume. You can use this data to calculate how much a keyword is worth to your business, all you need is the search volume data, your website conversion rates and the product/service net profit.
How To Choose SEO Keywords?
The tools can only help you discover keywords, the key to success is to choose the best ones for your website. To choose the best SEO keywords you want the lowest SEO competition score with the highest search volume possible. You can also check the top ranking sites for each search term to discover the quality of the content, low quality content means you have a good opportunity to outrank them. The free tools I have revealed also show you the number of backlinks that the top ranking sites have, this correlates to the SEO score. If the top ranking sites for any given search term have poor quality thin content with very few backlinks, it is going to be an easy keyword, that is what you should choose. Finding these keywords take time, but if you put the effort into this now, the rewards will pay off at the back end.
What Are Good SEO Keywords?
The best keywords to target are the ones that have the highest search volume and the lowest SEO competition scores. Of course this will be different for every single niche that you work in. In an ideal world you will conduct keyword research before you even have a business or website, this way you can determine if the niche is for you or not before you go into it. If you have a big budget and lots of time on your hands, then the best keywords will be ones with the highest search volumes, without any regards to the SEO competition. If you have a low budget and want fast results, then you need to choose keywords with the highest possible search volumes with the lowest SEO competition scores.
How Do I Optimize Keywords For SEO?
When you have your keywords you need to optimize your content. To do this you need to make sure your main primary keyword is in the URL extension, in the Meta Data, within the body content (keyword density under 1%), and within the H1, H2 headings, and in 1 or 2 image Alt Tags. Then you can sprinkle the long tail variations of the main focus keyword within the content. That's it, do this right and you will improve your keyword ranking very quickly.
How Do I Add Keywords To My Website?
After you have a list of keywords you can start adding them to your website. Select the pages that are most related to each search term. Go ahead and add the keywords to your Meta Data and the body content. Make sure the keywords feature in the page headings and are included in at least one image Alt Tag.
How To Use SEO Keywords?
You are looking to use your SEO keywords within your web page content to help the search engine spiders better understand what your content is about. The best practices to use keywords is to write naturally, feature short tail and long tail keywords within your content and keep keyword density below 1%. There is no bang on keyword density ratio to stick to, however I have had amazing results with a keyword density around 0.7%.
How Many SEO Keywords Should I Use?
The number of keywords that you choose to feature within your content will be determined by your research. It is best practice to focus on one short tail keyword in the first instance and then work in your long tail variations. For example, if you are doing a product review piece, you will have the main review keyword followed by many product review keywords, this could be anywhere between 5 and 100 long tail keywords in there. If you are going for super long quality content the number of long tail keywords could be well into the hundreds.
As always, if you have any questions just drop me a comment below.