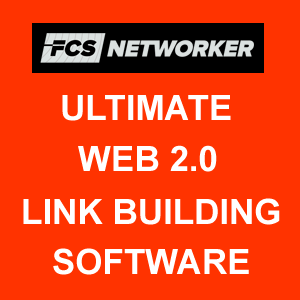 Today I am going to show you how to use FCS Networker automated link building software.
You can use the software to build backlinks on just about any Web 2.0 platform.
The software even comes with an add on to allow you to set up new Web 2.0 blogs on complete auto pilot.
FCS Networker will allow you to do my Web 2.0 backlinks strategy in less time, it's not required of course, but it certainly speeds up the process.
The good news is that you do not require proxies to use the software, and it even has a built in content generator for posting fast to your high page authority Tumblr network.
As you probably already know, I use SEO Content Machine for generating content for my backlinks.
For this tutorial I am going to use the content generator that comes with FCS Networker. This will give you the chance to see just how good this platform really is.
So what am I going to do?
I am going to build 50 high page authority Tumblr backlinks to my epilator Amazon affiliate site. Follow the link to read about my Amazon affiliate site case study.
I will reveal how long it takes me to build 50 backlinks with FCS Networker, I will also show you the quality of the backlinks that it generates.
I have no problem using these backlinks on tier 1, however they are very effective used on tier 2 fired at a premium Weebly blog. You can get premium Weebly blogs done on seo clerks, I have used them myself and know first hand that they are very effective at pushing ranks. This service will also do the 50 high page authority Tumblr backlinks on tier 2 for you.
Alright, let's get started pumping out those backlinks;
How to use FCS Networker for Automated Tumblr Backlinks
I am building Tumblr backlinks here, but it is the same process for any web 2.0 platform.
You simply load your Web 2.0 blogs into the FCS Networker system and you are ready to go.
First of all you are going to need to get yourself an FCS Networker account, which you can do so by following the link.
Go ahead and log into your account. The top box is for your email address, the box below is for your password.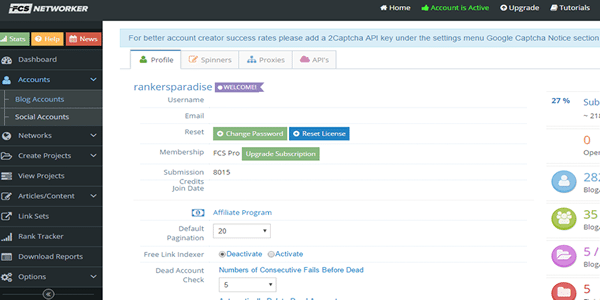 This is the screen you will see when you first log in. You do not need to add any proxies, although you can do so if you want to. Using the FCS Networker preoxies results in high posting success rates, so I don't bather  to add my own.
Right, let's get going. Select the "Accounts" tab on the left hand menu panel and click on "Blog Accounts". We are going to bulk upload our Web 2.0 blogs into the system.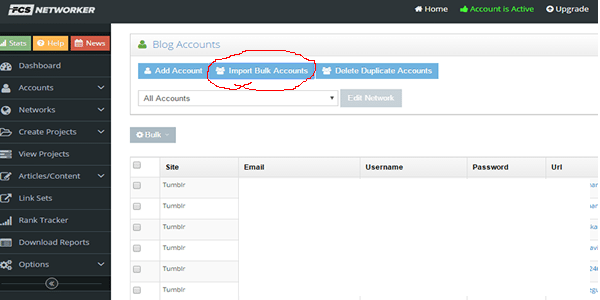 Now click on "Import Bulk Accounts". You can add 50 Web 2.0 blog accounts in no time at all.
Simply follow the advised format to add any Web 2.0 blogs into the system. I have added some dummy information into the box to show you how it is done. You can add as many sites as you need too, one Web 2.0 site per line.
You can drop the backlinks into categories. When you have done that hit the "Add Accounts" button.
It should only take you ten minutes max to add 50 Tumblr blogs. Mine are all loaded and ready to go, so lets get those backlinks pumped out.
Now click on "Link Sets" on the left hand side menu panel. Then click the "Add Link Set" button at the top of the screen.
Now you need to set up your link set. This is telling FCS Networker what anchors you want used for the 50 backlinks it is going to build for you.
First of all give your link set a name. Go ahead and enter your money site URL. Then you need to enter your anchors, if you are unsure which anchors to use take a look at my perfect anchor text ratio post. That is the exact anchor text ratio I am going to use here.
Scroll down and add your secondary anchors if you require them. This is something I do not need, then hit the "Add Links" button.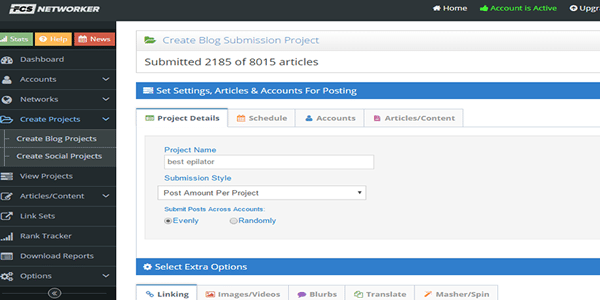 Now click on "Create Projects" from the left hand menu and select "Create Blog Projects". Then go ahead and give your project a name.
Leave the "Submission Style" set on "Post Amount Per Project" and make sure that the "Evenly" radio button is selected for "Submit Posts Across Accounts".
Use the "Schedule" tab to drip feed your backlinks. I am going to leave it set at "0", I want the backlinks to be done immediately.
Now we need to tell the software which accounts we want to post content to. Select the accounts tab and hit the "Add Accounts" button.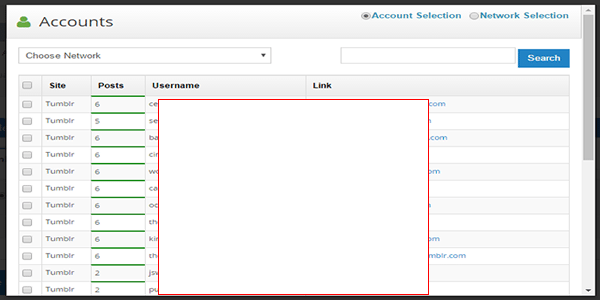 Now simply select the Web 2.0 accounts that you want backlinks from. I am going to select 50 of my high PA Tumblr accounts. You can get backlinks from many Web 2.0 platforms, including WordPress, Weebly, Jimdo and many more. To select an account just click the radio button next to it.
Scroll down and hit the "Choose" button. You will notice that the software also tells you how many posts each Web 2.0 site has on it.
Take note that you do have the correct number of Web 2.0 accounts selected. As you can see, I have 50 accounts selected.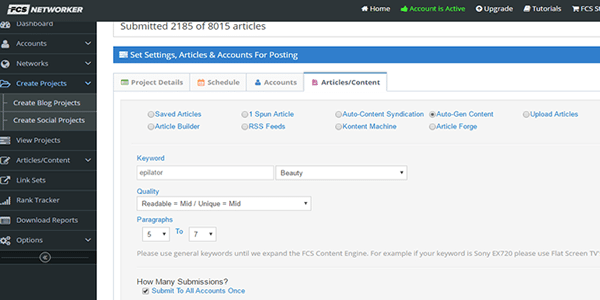 Now select the "Article/Content" tab. Make sure you select "Auto-Gen Content". You can also upload your own articles if you wish to do so.
If you want FCS Networker to generated the content you simply add a keyword and content category and then select the quality. I have chosen to have readable content that is 5 to 7 paragraphs in length.
I have also check the radio tab "Submit To All Accounts Once". I do not want the same Tumblr blog to get more than one post on it.
Okay, that's the content taken care of. All we have left to do is set up the links and images for the posts.
You will need to scroll down the page to do this.
Go ahead and select the "Linking" tab and check the "Links" radio tab.
Now you need to hit the "Choose Links Sets" button.
Now select the link set that you set up earlier. Then go ahead and hit the "Choose" button.
Make sure that you have 100% of articles set to get links. I always leave the link positioning set to random, this way everything looks more natural.
You will see I have also opted to add authority links to my articles. Just check the relevant radio button and enter your keyword. I leave the positioning of authority links set to random too.
Go ahead and select the "Images/Videos" tab, this is the last thing we need to do.
Go ahead and select the "Images" and "Videos" radio tabs. Simply enter a keyword and FCS Networker will place relevant images and videos in your content. You can even use your own images and videos if you want to.
You can set the position of the images/videos within the content and even select how many you want in there. I have selected to have 1 image and 1 video in each article.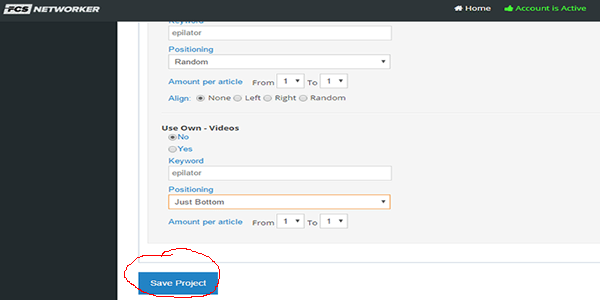 Now scroll down and hit the "Save Project" button, this will start the backlinks flowing.
I am going to time how long it takes the software to drop me 50 Tumblr backlinks.
So it took me 5 mins to set up the campaign, it took the software 15 mins to drop the content on my Tumblr blogs.
So in just 20 minutes I got myself 50 high quality Tumblr backlinks.
To get your backlinks simply click on the "View Projects " tab on the left hand menu panel.
To download your web 2.0 backlinks click the download icon (circled red).
Let's take a look at the quality of the content that FCS Networker generated for me.
As you can see the content isn't too bad at all. It's not bad fro 20 minutes work.
What Else Can FCS Networker Do?
I should really tell you what else the software can do.
You can load in your social accounts too, so you can go ahead and give your money site social signals really fast too.
Not only that, you can add social bookmarking and PDF Sharing into the mix too.
It will pretty much do all my backlink strategies for you on auto pilot.
Here is a list of the Web 2.0 platforms that FCS Networker supports;
Self Hosted WordPress
4Shared
23hq
Acedamia
Albawaba
All4webs
Angelfire
Annotate
BCZ
Beep
Beeplog
Blackplanet
Blinkweb
Blogbaker
Blogcom
Blogetery
Blogger
Bloggse
Blogigo
Blogymate
Bloxpl
Blurpalicious
Box
Bravenet
Busythumbs
Buzznet
Calameo
Canalblog
Cottrell
Dailystrength
Deviantart
Diigo
Disqus
Docdroid
Dolphin
Doomby
Dreamwidth
Dropbox
Drupalgardens
Edublogs
Eklablog
Elgg
Evernote
Exteen
Experienceproject
FC2
Flixya
Freepdfhosting
Freewebsiteservice
Gaiaonline
Gather
Getjealous
Gett
Hatena
Hazblog
Iamsport
Iloveblog
Indyarocks
Insanejournal
Impernity
Issuu
Jcow
Jigsy
Jimdo
JournalHome
Kazeo
Keepandshare
Kippt
Kiwibox
Livejournal
Mediawiki
Metroblog
Mextl
Miarroba
Migente
Moonfruit
Mozello
Mypage
Mywapblog
Newsvine
Nexopia
Notehub
Overblog
Ownfreewebsite
PenlO
Penzu
PHPfox
Postbit
Postagon
Purevolume
Rebelmouse
Redbubble
Rollr
Sailblogs
Scribd
Shutterfly
Skyrock
Slideshare
Snackwebsites
Snappages
Soundclick
SOSblogs
Soulcast
Soup
Storify
Strikingly
Supernova
Travelpod
Tribe
Tumblr
Typepad
Ucoz
Unblog
Vefblog
Wallinside
Washblog
Webgarden
Webnode
WebSpawner
Webs
Websitebuilder
Weebly
Wikidot
Wix
WordPress
Xfire
Yola
Yudu
Yourtrainings
Zoho
As you can see, it supports a whole load of Web 2.0 platforms, the list is constantly updated too. As web 2 platforms come and go they add and remove them appropriately.
So what makes this the very best automated link building software?
It is cloud based, all submissions are done on the FCS Networker servers. There is no software to download.
You do not need to buy any proxies.
You can build backlinks all in one go, or drip feed them over a week. The choice is yours.
You can build powerful link wheel and link pyramids with ease. As you know, it is a time consuming process, however the software takes all of the hard work out of it for you.
You can build backlinks to your backlinks keeping your blogs with high page authority.
The software will auto generate content for you. I have tested, and it will index.
The software also has a built in indexer and a rank tracking system.
You can also keep track of your Web 2s PA/DA and CF/TF.
The software comes with a free add on that has to be downloaded. The add on will create fresh Web 2.0 blogs for you on autopilot. It will also generate and even verify email accounts for you.
You can see how the account creator works in the video below:
You know how powerful Web 2.0 backlinks are, this software makes it so easy to get those backlinks to all your sites fast.
The software has a flexible API and will integrate easily with just about any other SEO Software out there, including the very popular GSA SER.
You can track the number of posts that you have done each each blog, this is useful so that you do not dilute the ranking juice too much.
There is also a feature that will auto translate content and even spin and push together your content to make completely unique new articles in seconds.
As you can see from my tutorial, it is so easy to use, I have no doubt anyone can use this software.
At the time of writing it is priced at $17 per month, which is a lot cheaper than most other good SEO Software out there.
$17 a month will get you 3000 submissions per month, that is some serious backlink power you have at your finger tips.
If anything it is going to save you a hell of a lot of time, it is most definitely worth investing in if you have a large high page authority Web 2.0 network to look after.
The software is constantly growing and evolving, so you can be certain the develops are not going to abandon it.
If you are spending a lot of money on Web 2.0 backlinks because you don't have the time to do them yourself, well FCS Networker is most definitely for you, especially is you are paying more than $17 per month already on Web 2.0 backlinks.