Here at Rankers Paradise you can learn how to rank higher and boost your website traffic quickly.
All our SEO strategies are proven to work, you can follow them for free on our blog.
Many so called SEO guru's claim top rankings but never prove it. That is where we differ.
We share what works, what we have tried and tested when ranking our affiliate websites.
We then show tutorials on how to follow the strategies yourself. We rank those pages using the exact same SEO principles.
You do not need any complicated coaching, just follow our guides.
If you are looking to hire an SEO consultant we can do the work for you.
With us you know you are getting top quality proven strategies that work.
Here are some reviews from some of our current monthly SEO clients:
Steve Wilkins
I have followed Rankers Paradise since the very start in 2016. I used the strategies with much success. My work load and number of websites increased so I decided to outsource the work to Nick's team. I have been giving them new sites every time I find a new niche to work in and every time they get me amazing results. I use them over and over again, enough said.
Sarah Gilligan
I started my first website and had nothing, I was working full time at the start so gave Rankers Paradise the chance to rank my website. My traffic grew from week 3 and after month 2 I was able to quit my job and work full time on my website. I owe my life dream to this website, they made it possible for me.
Before you do anything it is recommended you take a look through our seo blog.
If you are serious about learning everything there is to know about SEO and backlinks then it's all available and completely free to look at right here in our blog.
Getting Started With Our SEO Coaching Blog
Your level of SEO knowledge does not matter, a complete beginner can follow our ranking guides.
The guide's are set up for one reason, to rank your website higher in the search engines for a particular keyword.
These are useful for complete beginners and veteran SEO experts.
There is something here to learn for absolutely anyone, whatever level you are at.
We have had feedback from complete beginners saying how helpful our SEO coaching blog has been.
People from all over the world have managed to rank their websites higher.
After you put this into practice you too can become and SEO marketing agency owner.
Here is what people have to say about our SEO tutorials:
Kim Valance
I came across Rankers Paradise having heard about how to create backlinks for free. I took a look at the web 2.0 backlinks strategy and found it easy to follow. It worked, my website ranking went up and I was ranked top in just 3 months, all done by myself.
Harry Ingelle
I have some good knowledge of SEO, I was looking at the Rankers Paradise web 2.0 link wheel tutorial and followed it. I was unsure about what anchor text to use, however the guide cleared this problem up for me. Was very surprised that such a high quality guide was available for free to me.
Every guide in the blog is completely free.
Start Making Maximum Use of Your Time
Why waste time trying to discover out what works and what doesn't when we have done all that for you.
SEO is very time consuming and quite frankly is very frustrating too.
However, when you do things the right way it becomes a lot easier, things happen faster.
As you probably know, Google loves to update it's algorithm a lot, we have you covered for those situations too.
It's very hard when you waste a lot of time on your websites for you and your clients without any ranking results.
This is why it's important to following our coaching step by step to the letter.
This way you are going to get maximum search engine placement results.
Are Your Websites SEO Future Proof?
So you have had good results with SEO in the past, that doesn't mean your ranking will stick in the future.
Google is constantly updating itself and if you make a mistake your website may get penalised at any time.
It's very important to future proof your website for any new Google updates to come.
The future of search engine optimization comes with common sense mainly available to people with much experience in the industry.
A small change to your website now could well be a big problem in the future for your site.
It's important to analyse what you do to ensure you do not run into problems further down the line.
Should You Hire An SEO Consultant?
The answer to this question comes down to return on investment.
If you are going to hire an SEO agency to rank 5 keywords that are not going to bring you any traffic or sales then you have wasted your money.
Our coaching covers this too, we show you how to calculate your keyword worth.
This way you can work out if you are going to get a return on your investment in SEO.
Here is a review from a client that hired us as their SEO consultant:
I hired Rankers Paradise for my travel website, it was completely new at the start and my ranking went up month after month. They helped me understand the worth of my keywords and how much my website would make when I ranked top, their estimate from the start was very close to the earnings that I get now they have got me ranked number 1 for my two main keywords. Their estimate was on the conservative side so I am making more than expected, very happy indeed.
If you are struggling to get results with SEO then have a consultation with us.
You can use the form on our homepage to get started, we will send you a report on how to rank your website higher.
This is completely free.
Let Us Do All The Hard Work For You
If you are frustrated with SEO you can let us do the work for you.
We will do a complete on-site and off-site analysis to fully road map what needs to be done.
We have been ranking websites in all niches for a very long time now.
We know what works and how we can get you the fastest results.
We will let you know if your keywords are worth pursuing and if they will make you the kind of money you are looking to make.
If your keywords are not up to what you expect, we can find the keywords that will give you a good return.
We have knowledge and proof of ranking any organic search terms and local keywords too.
Having an SEO expert to call upon is going to give you a massive advantage over your competition.
We are always testing new SEO ranking techniques that we monitor all the time on our own projects, we reproduce what works for our clients for them to succeed too.
Use Proven Ranking Strategies
Don't waste time testing strategies yourself, use the proven ranking techniques given to you for free in our blog.
Time after time we have achieved top rankings, go and take a look at some of these for yourself.
Web 2.0 Backlinks
You can see our web 2.0 backlinks coaching guide in our blog.
We ranked that web page number 1 on Google using the same strategy to prove it works.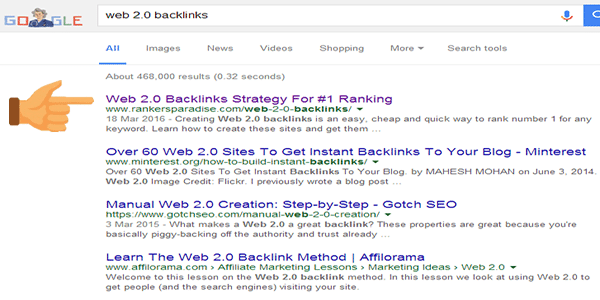 As you can see for yourself, this website is ranked number 1 for that selected search term.
You can also work your way through the web 2.0 link wheel tutorial.
This is another proven strategy, we also ranked that page number 1 on Google for the selected search term.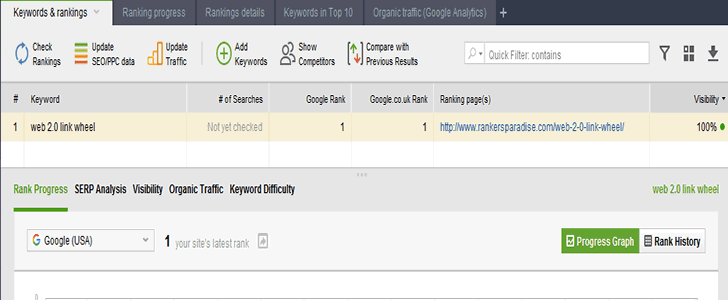 As you can see a number 1 ranking was achieved on Google.com and Google.co.uk.
We also ranked top for other search terms using proven ranking strategies like these.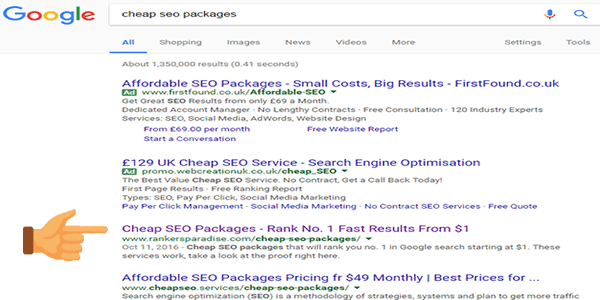 The top rankings go on and on, see more in the blog.
With SEO coaching like this you can't fail to succeed.
Work through each actionable strategy using our onsite and offsite tutorials to get ranking results, good ones.
Other SEO Techniques
We don't stop at SEO, when the traffic starts we work with you on how to optimize your site for the best conversions.
We don't just want you to have traffic, we want you to have sales and sign up's too.
We ensure your website becomes a money making machine, each and every visitor is directed to where they need to be.
Helping and coaching you makes us happy, and that is why we are so good it at, because we love what we do.
Current Clients – Current Results
Here are some ranking results from the campaigns of our current clients.
#1 Client Study Results
This is for a travel website, the search term has 8,800 monthly search volume.
The website was brand new when we started, we analysed the competition and optimized their content and site architecture.
After that we started the on the off-page work, logging all work done. It took just over 6 months to get a number 1 ranking.
Keep in mind that this website was brand new, existing aged sites will rank number 1 earlier than this.
#2 Client Study Results
This client is an eCommerce website, they gave us 30 search terms, all have very high search volume's over 1,500 per month.
The site was aged and many keywords were on page 2 at the start.
After 6 weeks we had 11 of the search terms ranking number 1.
All the rest are a little more competitive and took a little longer.
We replaced the top ranking search terms with others and are working on those now.
The top rankings have increased their sales by over 300%.
Their return on their investment in SEO has paid back many times over.
#3 Client Study Results
Another of our current clients is in the health industry, their search terms are very competitive.
They came to us and took the 10 keyword package and 6 of these search terms are now ranked number 1.
Their keywords range in search volume between 800 and 2000.
Our client list goes on and on as do the number 1 rankings.
It doesn't matter what the level of competition is like to us, we will always get you there.
If you don't have the right SEO strategy in place then you are wasting time, your frustration levels will increase.
You can save yourself this time, you have nothing to lose by taking a free SEO consultation with us.
Here are some more reviews from existing customers:
Paula Harrow
I work in a competitive niche, I had been struggling with SEO and had my site stuck on page 3 of Google. I found Rankers and contacted Nick for a consultation. He showed me a ranking road map,  contained details of when my competitors gained links, the type of links that they were and how and when I should get the links. He also recommended on page changes to be made, which we did right away and got a rank increase over night. Then we started to implement the backlink road map and our site went up like he said it would to the time frame suggested. Nick and his team are very friendly, I love working with them.
Joanna Pinns
The team looked at one of my affiliate sites after I submitted the form for a free consultation. I received a detailed guide on how to improve my website ranking. I could either follow the suggestions or get the Rankers Paradise team to do it for me. It was a lot of work so took up their offer and not looked back since. Got many number 1 rankings now and things have never looked better for me.
Our clients are happy with our work, you do not have to use our services.
You can follow everything we suggest to improving your website ranking completely free of charge.
We are here to help.
How We Work
Our SEO coaching starts by you filling out the form on our homepage.
All we ask for is your:
Email Address (for us to send the report to)
Name
Website URL
Focus Keywords
We will send you a step by step SEO strategy to improve your ranking for the selected keywords.
You do not need to pay anyone for SEO, the guide will show you how to get it done for yourself.
We use premium tools to analyse your website, this way you do not have to pay for them.
We use tools like SpyFu.com, this allows us to analyse your competition.
We first of all make sure you understand how to optimize your website, we tell you what needs to be done.
After that your competitors are looked at and a ranking road map is formulated from there.
Is It Really Free?
Yes, we do not charge you anything for our SEO coaching guide.
You can follow the ranking road map yourself, or let our team take care of it for you.
The choice is yours, you do not have to pay us anything at all.
This information takes time to asses and put together, and in most cases would cost you $1000 or more.
We do not ask for anything from you, we want to help you achieve your online dreams and goals.
We take great pleasure from this.
If you want us to do the work for you then you can take a look through our monthly seo packages.
Guaranteed Results
If you follow our strategies you will get results.
Many people lose their way when doing SEO, it's time consuming and the waiting can be frustrating.
The main thing that is key, is to never quit and to always stick with it.
You will get value from any service you order from Rankers Paradise.
The free SEO report will guarantee you ranking results if you stick to the plan.
You can get started right now, simply head on over to our homepage and scroll down to the form.
Please note that some reports may take 2 to 3 days to complete due to high demand.
We are looking forward to taking a look at your website and helping you rank it top too.