Today I am going to show you how to sign up for the Rankers Paradise affiliate program and how you can promote our SEO services to make big money.
It is completely free to sign up as a Rankers Paradise affiliate and everyone is accepted instantly.
I am going to show you how and where to sign up.
If you are unsure about what affiliate marketing is and how you can make money from it take a look here.
Basically, it's promoting other people's products and services, if a person makes a purchase through your referral link/code you make a commission on that sale. You can actually make money online from nothing, I show you how to do this below using the Rankers Paradise affiliate program.
I will run through how you can set up an SEO affiliate store promoting Rankers Paradise SEO services.
After that, I will show you how to promote and get traffic to the store and start making money.
I should make it clear that you do not need to have a website to be on the Rankers Paradise affiliate program.
You can simply promote our services on social media and use your personal referral links to make money.
I will show you how to do that in this post too.
First of all, let's run through why it's a great money maker as a Rankers Paradise affiliate.
Why Join The Rankers Paradise SEO Affiliate Program?
Our service pages convert very high, all you need to do is pass the traffic to this site and it's highly likely you will receive a commission from a sale.
Why do our services convert so highly?
The SEO services are backed up with proven ranking strategies shown in our SEO blog, many of our best selling services have links to the blog posts to show the customer that what they are buying really does work.
So, when you get the customer onto this website, it is highly likely they will purchase from us.
Here are the main reasons to sign up as a Rankers Paradise affiliate:
Receive 20% commissions on all sales
Enjoy long life 90-day cookies
Lifetime commissions for all affiliates
We pay your commissions directly into your PayPal account
Very easy sign-up
High converting product pages
Very High Converting SEO Service Pages
Many of our SEO service pages have links to blog posts that prove they work. This makes the customer feel comfortable that they are not wasting their money and in turn give us a very high conversion rate.
You can promote the Rankers Paradise SEO services on your own website or go ahead and post your referral links on social media. With our affiliate program, you really can make money from nothing.
20% Commission Lifetime Payouts
Not only do you get a huge 20% commission on every sale, but you also get 20% of everything the customer buys from us for their lifetime here on Rankers Paradise.
This means that if you refer a customer to us, you do not just get a commission on the sale they make that day, you get a commission of 20% on every sale they make from Rankers Paradise forever.
Our services range in price from $50 right up to $1000+ with many customers ordering more than one service at a time.
We also offer monthly SEO services, which means if you refer a customer to us that orders a monthly SEO plan, you receive 20% of the sale each and every time they pay us month on month.
And, our monthly SEO customers stick with us as we get results.
With that in mind, you could be earning $1000+ a month from us in commissions if you refer just 5 customers to us and they order our Gold monthly SEO package. Yes, that's just 5 conversions and you could be making at least $1000 a month.
Very Long 90 Day Tracking Cookie
We have a long life 90 cookie, which means if you refer a customer to the site on day 1 and they do not buy on that day, you can still receive a commission payment if they return and buy within the 90-day cookie life.
Promotional Banners
Inside the affiliate area, we provide you with promotional banners, you can post them on your website or on social media, this will help you make referrals quickly.
How To Sign Up For The Rankers Paradise Affiliate Program
All you have to do is head on over to our SEO affiliate sign up page.
We accept everyone onto the program and it is completely free to join.
The form is fast and easy to fill out, we just ask for the following details from you:
Your Name
Username
Account Email
Payment Email (Email associated with your PayPal account for direct commission payments)
Website URL (you do not need to have a website, leave blank if you do not have one)
How you will promote us (say you are promoting through your website and if you do not have a site state you are promoting through social media)
Underneath the sign-up form we have listed our terms and conditions, please read through those before you go ahead and get started with us.
After sign-up you will see this SEO affiliate dashboard.
You will be able to access the following:
Affiliate referral links
Statistics
Graphs
Referrals
Payouts
Visits
Creatives
Settings
Lifetime Customers
Direct Links
To get started making referrals you simply use your referral link on social media or on your website.
I will show you more about how to do this later.
How To Set Up A Rankers Paradise Affiliate Website/Store
To set up your own Rankers Paradise affiliate store you are going to require a website with WordPress as the CMS running the Woocommerce plugin.
Here is our demo store, go ahead and take a look.
I am going to show you how to set up a store that looks just like this one.
If you don't have a lot of experience dealing with WordPress then you can go ahead and purchase the store from us.
You can buy our SEO affiliate store right here.
Get Your Domain Name
First of all, you are going to need a name for your SEO store.
Any brandable domain would be good, our demo store is called BacklinksRanker.com.
If you are struggling for ideas you can use a free domain name generator.
I highly recommend that you register the domain name over at namecheap.com.
While you are in your account you will need to change over the name servers.
It's quick and easy to do and if you are going to use my recommended low-cost hosting provider then you will need to change the nameservers as follows:
Host Your Website and Instal WordPress CMS
A low-cost hosting solution for your affiliate store would be bluehost.com.
You get a free SSL certificate with all packages.
Make sure you select to use your own domain when you sign up, this will ensure the domain you purchased earlier will be assigned to your account.
You can discover how to start a blog in more detail on one of my earlier posts. The post shows you how to assign other domains to your hosting account.
To add WordPress to your website click on the "WordPress Tools" within your BlueHost dashboard:
On the left menu make sure you have "New Install" selected.
Enter the following details:
Select your domain name
Leave the path folder empty (this ensures WordPress is installed on the root domain)
Give your site a Title
Enter your admin password, username, and email
Now hit the "Install WordPress" button.
That's it, your SEO affiliate website is coming to life.
Before you leave BlueHost ensure you enable your free SSL security certificate.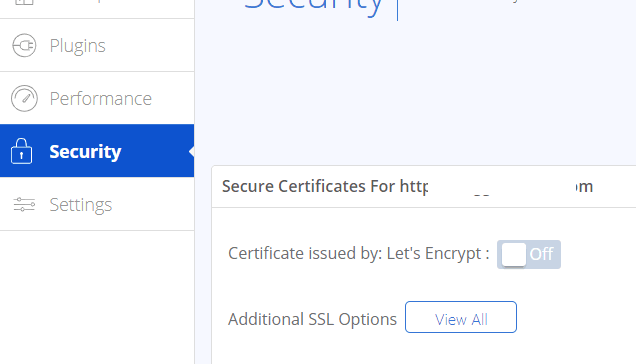 Scroll down the left-hand side menu and select the "Security" tab.
Then turn the "Certificate issued by: Let's Encrypt:" to the "ON" position.
Your website is now up and running and ready to start promoting the Rankers Paradise SEO services.
Add The Rankers Paradise Theme and Upload The SEO Services To The Store
Go ahead and log into your website, at the moment it will be looking a little plain, we will soon change that.
To log into your WordPress website you need to go to yourwebsite.com/wp-admin as shown in the image above.
First off, go ahead and set your permalinks as above.
Then you need to go ahead and install the following plugins:
Yoast (this helps you set your METADATA)
Product CSV Import Export (BASIC) – this will help you install all the Rankers Paradise products into your SEO store with one click
Woocommerce
Down the left-hand side menu click "Plugins" and then "add new" and go ahead and install the plugins listed above.
Next, you need to go ahead and add the Rankers Paradise theme.
The Rankers Paradise affiliate demo store is using the REHub theme, which you will need to purchase.
If you purchase the SEO affiliate store from us, we buy and install the theme for you, it is all included in the price.
Our demo site is using the Recompare demo import.
After you purchase the theme you will need to download the WordPress files and upload them to your site along with all the relevant plugins.
To do this select "appearance" from the left-hand menu, select "themes" and then "add new".
At the top of the screen select "upload theme" and then choose the file you downloaded and upload it to your site.
Make sure you go ahead and activate the theme from the theme menu and active all the required plugins for that theme.
If you want to add the demo data go ahead and install that through the ReHub demo import option on your WordPress menu.
After that, all you need to do is to upload the Rankers Paradise SEO services into your store.
First, you need to download our product CSV file:
https://www.dropbox.com/s/sifpg46ubbxux43/rankers-paradise-affiliate-store-products.csv?dl=0
Now to upload the SEO services to your site go to:
Upload the file you downloaded earlier.
When the upload is complete you will see all the Rankers Paradise services in your store:
All that is left to do is to add your Rankers Paradise affiliate code to each SEO service.
Under each product, you need to select the "Edit" button.
Scroll down the product page until you get to the "Product data" section and change the "Product Type" from "simple product" to "External/Affiliate product".
Now you need to go to your Rankers Paradise SEO affiliate dashboard to get your affiliate referral link for that product.
We are editing the "30 Days Affordable SEO For Small Business" SEO service, so you need your referral link for that service.
Enter the URL from Rankers Paradise and hit the "Generate URL" button.
Now you have your SEO affiliate referral code you can enter that into your external affiliate product URL on your website as shown above.
You need to go through all the SEO services in the store and add your affiliate referral link to them all.
If you order our affiliate store we go ahead and do all of this for you.
That's it, you now have a fully operational SEO affiliate store up and running.
Now you need to go out there and promote the site, get traffic, and start earning some commissions.
How To Promote Your SEO Affiliate Store and How To Make Referrals Without a Website
The easiest and fastest way to get traffic to your SEO affiliate store or running through your referral links is to promote on social media, or more precisely Facebook.
You do not need a website to start making money on the Rankers Paradise SEO affiliate program.
Simply post your Rankers Paradise affiliate referral links into well-established niche related Facebook groups.
Enter some well know SEO keywords into the Facebook search facility:
Search Engine Optimization
Backlinks
Guest posts
SEO
Private Blog Network
Digital Marketing
Go ahead and join these groups, do not join too many per day as you will get banned, 3 a day is good.
Once you are accepted into these highly engaged groups you can start promoting the Rankers Paradise services posting your SEO affiliate referral links or links to your SEO affiliate store.
Simply enter the details of what you are selling into the Facebook group, you can use your SEO affiliate store URL or if you don't have a store use your Rankers Paradise affiliate URL:
As you can see, you can promote the Rankers Paradise store on Facebook using your SEO affiliate referral code.
Go ahead and hit the "next" button to select the groups you want to post to, you can reach a whole lot of people this way and send a lot of traffic to a website really quickly.
Select all the groups you want to post to and go ahead and hit the "publish" button.
That's it, traffic will start passing to your SEO affiliate website or to the Rankers Paradise website through your affiliate link almost immediately.
If you do this on a regular basis you could be earning commissions from us every day, it doesn't take a lot of work to start making money online this way.
The best part is, you do not need to spend any money at all to get started.
Simply join the Rankers Paradise affiliate program for free and promote our SEO services through social media on a daily basis, you will make money from nothing.