Let me share with you all my review on the best amazon keyword generator for finding profitable buyer keywords I discovered called Amasuite 5.
If you are an affiliate marketer using amazon or even just an amazon seller or ebay seller this is the best keyword generator I have ever found.
If you are looking for profitable buyer keywords in any affiliate niche which will bring you traffic to your affiliate site from the search engines, you need this software. You can purchase it here.
What I like about this software is the developers give you two options on how to pay, you can either make one payment and then the software is yours for a lifetime, or you can pay in 4 instalments. So it has the option if you really cannot afford to make a one time payment, as it is quite an expensive software but worth every penny trust me….
The software is a full suite of products, but today I am going to focus on one in particular, the keyword generator.
The keyword generator software in this suite is I have to say one of the best keyword generators I have ever found, especially where Amazon affiliate marketing is concerned.
Unlike other keyword tools on the market which gives you lists and lists of keywords with just difficulty scores, this tool actually gives you the buyer keywords which will get you traffic, and yes  from Google…
The software has built in algorithms which tells you the keywords, which will get you buyer traffic from all of the search engines and therefore you no longer have to sit and guess which keywords to go with from using other keyword tools.
How  to get started with the amazon keyword generator
So here is what you need to do, head on over and make your purchase – you can purchase from here.
The software will work on both mac and pc.
Once you have purchased the software you will receive your login details to your email.
You then head on over to the login page on the site here – http://amasuite.com/members-login/ and login.
You will then be able to download the amazon keyword generator or whichever software from the suite you like on to your mac or pc.
This isn't a cloud based program.
Once you have downloaded the keyword generator software on to your desktop go ahead and open the program up and you will have the below on your screen:
At The top where it says keyword generator click on this and you will then have the following:
On the left hand side you will see six data sources, tick the ones you want to use in your keyword research.
Once you have selected which sources to search,  underneath where it says seed keywords (one per line) place some keywords in there – I usually enter up to 10 max.
For this tutorial I went with the food niche. I typed in chef hats and chef aprons:
Ensure you place one keyword only per line.
And then to run the software press the green play icon as pictured below:
What I love about this software is it's like lightning, so so fast and it wont slow your laptop, pc or mac down.
While the software is running you will see two progress bars at the top of the screen, this is it extracting all of the keywords from all 6 sources.
The software will then finish up what it's doing and reveal to you a list of keywords like below:
Which Keywords do i use from the Amazon Keyword Generator?
As you can see its provided alot of keywords, but how do i know which ones to use?
Well obviously the ones with 0 in red are no good, so the numbers in green and mustard colours are the ones which are excellent keywords for your site.
So if you are an amazon affiliate in the UK, any keywords in green under the amazon UK column you can use for your site.
This is a great tool for affiliate marketing…as based on all of the keywords in green you could write blog posts on each one of them to optimise your site. Or even if you have just a store, you can use them for category names etc. It is definately one software you should purchase.
Anyway, now that we have the keywords up I want the most powerful keywords out of them all for my niche site.
While it found 85 keywords for me, I don't or won't be using them all.
At the very end of the software you see score – this is really how to get the most powerful keywords, if you don't want to focus on them all in green. See image below :
The software works using a scoring system of 1-100 (with 100 being the best).
If you click on the arrow underneath "score" it gives you the options of breaking down to the keywords with a score greater than 50 etc…which is what I like to use.
Anything 50 or more is a good option. You will also find with this software which I find interesting is that some keywords will be in green for Amazon UK and not for Amazon USA. This is also a good feature the software has, it just shows you there is some keywords more profitable than others on all amazon sites.
What I also like about this tool is you have the option to filter out keywords the ones with no traffic and the other ones you don't want to use with a very little score :
You just click on that and it gives you the option to show only keywords from your list with a certain score.
What is also good about this software is you can save the keywords, all you do is click on the little save icon at the top and save it as whatever file format you wish, i usually save it as CSV.
So there you have it, i found alot of good potential buyer keywords like that just by using this software, there was no guess work involved and it didn't take me long either. I wasn't having to sit for hours and hours doing research.
Not only that, you can repeat the process over and over and over unlimited times with a whole load of different keywords for your niche.
I haven't yet checked the rest of the products in the suite, but just this tool alone is worth the money. If the rest of the products are anything like this tool in the suite then I definitely recommend buying it.
Purchase the best amazon keyword generator software by clicking here or on the image below.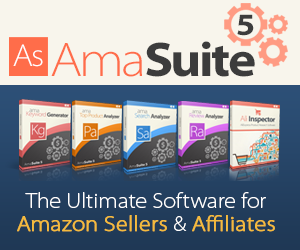 Thank you for your time!