Keyword research is the most important part of any SEO project. You will learn how to find great keywords, edit existing content, or write new content around them.
Pulling in the right keyword for your informational pages, service, or ecommerce pages can be the difference between success and failure. You must take your time when performing keyword research, get it right and the rewards are big.
After you have conducted keyword research you will know:
What people are using to search for a website like yours.
The number of times these searches are performed each month.
How competitive the search results pages are.
In what context Google wants the content to be displayed in.
You can use free tools online to discover this data, I will also show you how to do a manual check to asses how competitive the SEO landscape is. Once you know what Google is looking for, you can put it into place and get some top keyword rankings for your website.
Initial keyword research list
Before you go ahead and use some keyword research tools you need to note down some seed words, think about what you offer on your website and what you might think people will type into the search engines to find your website. You must try and understand who your website visitor is.
The key is to understand what you visitor wants, are they looking for a product to buy? Are they looking for an answer to a problem that they have? Knowing this information well help you succeed further down the line.
Here is an example: Say we have a perfume ecommerce store, they want to use SEO to help grow their online shop in the organic search results pages. They first need to understand their customers, to do this they can ask themselves:
What type of perfume are people searching for?
Who is searching for these products?
When are people searching for perfume, more in December, or in the summer months etc?
How are people searching for perfume? What words, questions are asked and on what devices?
Why are people searching for perfume? Are they looking for strong scents, or designer scents?
Where are these searchers located? Are they local to their store, in the same country or in another country altogether.
You need to ask yourself if you can provide the content to leave the searcher content with the search terms. Answering these questions not only helps you discover more search terms, but helps you deliver better highly relevant content.
What search terms are people using?
It doesn't matter what you would search on Google to find your web pages, it matters what the masses are using. This is critical, some search phrases are not used by anyone else but you, targeting a low search volume keyword would be a complete waste of your time and efforts.
Finding keywords
Start to make a list of terms that you would use to find your website. These can be entered into keyword research tools to discover other keywords that are being used by the masses. A good keyword research tool will uncover search volume data, SEO competition, and when the search phrases are used throughout the year.
When you enter a seed keyword into a keyword research tool you will begin to discover other related keyword, some tools show you questions that people use related to the search term and other topics that are related to it.
As an example let's use a roofer that specializes in metal roof repairs.
The seed keyword would be "metal roof repairs" and you would discover keywords like:
metal roof repair cost
metal roof repair near me
metal roof repair gold coast
As you see more keywords appear in the list you will notice that the volumes in which they are searched vary a lot. You will also notice that the longer the search term is the lower the search volume, however these keywords are more highly target and may result in more sales than short tail keywords with very high search volumes.
You will also notice that longer search phrases have less ranking web pages in the SERPs, the field is much less competitive. This can help you get quick wins when it comes to SEO.
How to discover how often a search phrase is used?
Usually, the big search volume keywords come with a lot of competition. You will see a lot of URLs listed in the SERPs and the top ranked ones will already have great content and lots of backlinks. If the top websites have good content, are aged, and have a lot of backlinks you can be certain it will be tough to outrank it, this data is usually analyzed and displayed in keyword research tools as an SEO competition score. Tough highly competitive search terms can take years to conquer if you are running a new site.
In most cases, the greater the search volume the higher the competition is. Going for longer search phrases will give you smaller search volumes, but the competition will be very low from an SEO standpoint. It's good to know that these long tail keywords can bring better results in sales, downloads etc than short tail high search volume keywords, this is because they are more targeted.
Going for long tail keywords
At first, you think to yourself, it would be amazing to rank top for the word "watch", but that's not the case.
Huge short tail keywords will bring traffic, but they will not bring sales. A more targeted keyword like "buy garmin watch" will bring in more sales, even though it has a much lower search volume than "watch". Short tail keywords are very generic and will bring people to your site that may not discover what they are after on your site, you may only sell Garmin watches, and they may be looking to buy an Apple watch.
You see, if a searcher puts the term "watch" into Google, what do they want? Do they want a fitness watch? Do they want a designer watch? Are they looking to watch something online? Who knows. If they land on your site after performing this search and you sell sports watches and they want designer watches then they will leave right away. This is why the money is in the middle to long tail variations on keyword. They are less competitive and convert at much higher rates.
Do not overlook these long tail keywords. Yes, at first you think, I am not targeting that keyword as it is only search 300 times a month. However this will bring you more buying customers than a keyword searched 5000 times a month.
Be sure to also take note of the questions people are asking related to your seed keywords. If you add FAQ sections to your posts you can rank for these too and bring more traffic to your site.
Calculating return on investment with search volume data
Now that you know your keywords and their search volume you can go ahead and establish the SEO competition and even how much money you can make from a keyword if your site ranks top.
To understand how valuable a keyword is to your website you can perform a simple formula:
Around 33% of the traffic goes to the top site:
search volume x 0.33 = Actual Traffic
Average website conversion is 5%, you can use this as an estimate if you do not know yours:
Actual Traffic x Conversion Rate = Number of Sales/Sign Ups etc
Now you can calculate the money you will make from a top ranking:
Number of Sales x Product Price = Value of Your Keyword (for a top ranking)
Now you will know roughly how much a keyword is worth to your website. This data is very important, you will know is a keyword is worth going after or not.
This helps you know if a keyword is worth the time and effort ranking for it.
Choose keywords by SEO competitiveness
You will end up with a very long list of keyword. How do you know which ones to go with at the very start? You can go for search terms that have a less competitive landscape, you estimate this by looking at the top ranking sites. Do the ranked sites have the keywords in the Meta Data? In the Headings and body content on the page? Is the content in-depth over 2000 words? Is it an aged domain? Do they have a lot of backlinks? Picking your keywords will be the difference between quick ranking success and zero rankings at all.
Choose keyword by search patterns
Keywords are more or less popular month by month, some will be more popular in December when Christmas rolls around. Knowing when a keyword is searched the most throughout the year helps you set up a content strategy, you can have your content written and indexed and promoted well ahead of the popular time.
Choose keyword by region
You can narrow down your keyword list if you want to target certain areas be this a specific town, region, or city. This way you can develop content that is highly specific to an area, different parts of the world use different words for different items, keep this in mind.
How to understand the searchers intent?
The words the searcher uses gives us their intent, are they looking to purchase something? Are they looking for an answer to a problem they have? There are thousands of different search types, here are the main ones:
Information search: As you would expect, the searcher is looking for some information such as the population of a town or the number of people killed in world war 2.
Navigational search: The searcher is looking for a place on the web like the Rankers Paradise blog or the Manchester City Team official website.
Transactional search: The searcher requires to do something like buy a bus pass or listen to music.
Commercial investigation: The searcher is looking to compare some products and find the best one for their requirements.
Local search: The searcher is looking for something local to where they are like a supermarket or a laptop repair service.
You can understand the users intent when you put your search term into Google, take a look at the SERPs. That is what Google is looking for when someone searches that keyword.
Take the search "bikini" for example: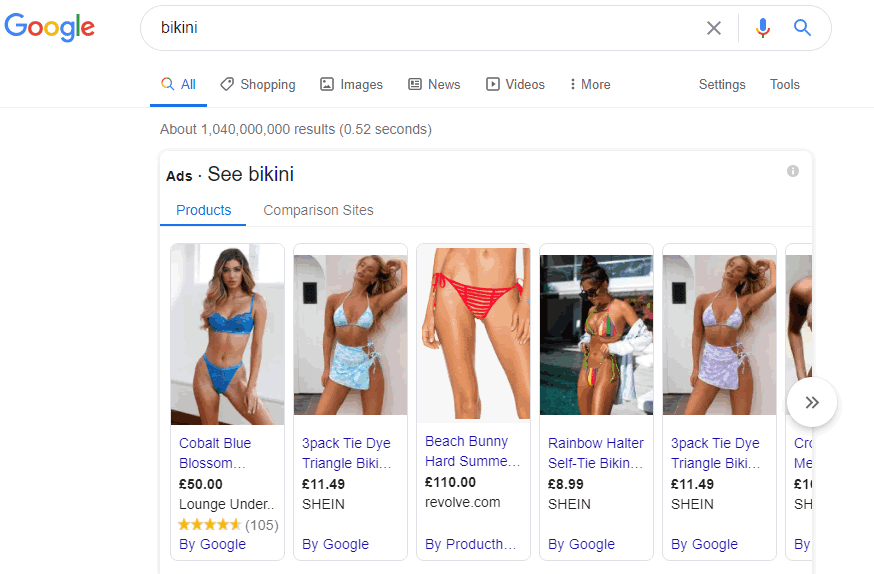 You will see the shopping carousel at the top, this tells you that Google knows that when you type in "bikini" you are looking to buy one.
You will also notice a local 3 pack for this keyword followed by a list of popular questions people are looking for related to it. You can also refine the search by department "women", "girls", or "boys". After that there is a list of ecommerce stores in the organic results followed by a "top stories" section featuring news and magazine type websites.
Tools to help you conduct keyword research
There are free tools that you can use online to help you find all the search data you need to help you select the right keywords.
Here are some of the best keyword research tools on the net right now:
Ubersuggest – Drop a keyword into the search feature and discover an unlimited number of keywords, including questions. You will discover monthly search volume, SEO competition score, content ideas, searchers age range, the months the most searches are performed, and much more.
SEMScoop – You will discover accurate SEO competition scores, the authority of the top sites showing domain ages, content length on the top sites, the number of backlinks the top sites have.
KWFinder – Comes with an accurate SEO competition score, search volumes, competitor analysis, and much more.
Keyword Revealer – Offer 10,000+ search locations allowing fast find of long tail keywords, identify high search volume keywords with low competition, shows ranking difficlity using metrics from Majestic and Alexa, has a backlink analysis feature built in.
If you want to go more in-depth on keyword research take a look through the Rankers Paradise blog. We have an in depth step by step guide on how to use the SEMScoop keyword research tool as well as the other on the list.
Now that you know and understand what your target audience is using to search on Google to find a website like yours it is time to write new content or optimize what you already have.